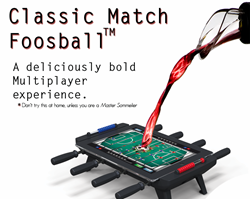 A tremendous achievement in app-enabled accessories, Classic Match Foosball is an unforgettable expression of how Foosball is meant to be played.
Wilmington, North Carolina (PRWEB) June 18, 2014
This dynamic accessory provides the player the ability to play foosball in a way that austere software-only Foosball emulation apps do not. With eight smooth functional 2 axis control bars and real scoring markers at each end, this accessory immerses you in game play as good as a tournament grade table, allowing the most expert players to show off their laser-like skills.
Classic Match Foosball is one of the most complete and advanced app-enabled accessory interpretations of table soccer. This complex foosball table accessory has hints of opulent seamlessness that showcase its polished customizable design for a company's logo, customized retail cartons, and just in time for the 2014 FIFA World Cup, Classic Match Foosball features team colors, theme songs, languages, and uniforms from over 40 different appellations.
Classic Match Foosball was showcased as "Hottest Gadget of the Month" by Popular Science magazine. Classic Match Foosball delivers full-bodied, realistic game play with a fine finish of decadent and harmonious sounds that add an engaging mix of pleasure for the senses. The free iPad app, available in the iTunes store, is well rounded with hints of bright gaming options, dramatically angular instant replay, & gorgeous graphics. It's a delicious multiplayer experience that is spectacularly bold with mesmerizing depth and is hedonistically pleasing to the palate.
This intellectually satisfying foosball experience is available for every vintage of iPad and iPad Air that has been carefully aged to iOS 5 or higher. Classic Match Foosball™ for iPad is available as a premium or gift for large or small companies, and apps can be designed on a case by case basis. For more information and samples visit us at: http://www.newpotatotech.com/FOOSBALL/foosball.html.
Classic Match Foosball, carefully handcrafted and bottled by New Potato Technologies, Inc.
As delicious as the game play is, we don't recommend you try to drink Classic Match Foosball.
About New Potato
New Potato Technologies is a consumer electronics design produttore headquartered in Wilmington, North Carolina, focused on the vinification of products for iPhone, iPod, iPad and Android noble varieties. For more details on Classic Match Foosball™ and New Potato, visit http://www.newpotatotech.com or contact media(at)newpotatotech(dot)com.