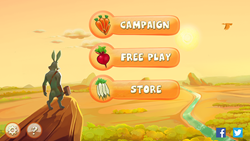 We've created a game that is more sporadic and unpredictable with a variety of weapons to send the various vermin back into their holes.
(PRWEB) June 19, 2014
A new mobile game for iPhone, iPad, and Android puts a new spin on classic whack-a-mole play. Hungry Bunnies 3D is available for free on the iTunes App Store and Google Play.
The game opens on a picturesque, pastoral scene. A river winds languidly through a sun-drenched plain while birds fly overhead. Soothing acoustic music flows out of the speakers.
There's also a rabbit with a hammer.
Players can choose Campaign mode or play each level individually. The campaign uses animation to introduce us to Papa Bunny, bravely facing other animals competing for the sparse available food to take home to his family. Everything from prairie dogs and rabid squirrels to lake monsters and yetis try to steal the carrots you've gathered.
To fight them off, players bop them on the head with the basic hammer or employ a variety of power-ups. The Black Hole sucks up many enemies at once; the Clock slows them down; the Mud Trap ensnares them in a gloppy mess. Other power-ups include the 2X Hammer, Cherry Bomb, and Spike Ball.
Players start with a few power-ups along with a limited amount of game cash and game coins to increase their arsenal and advance in the campaign. More of both coins and cash can be bought through in-app purchases. Beating levels, whacking enemies, and protecting food also earns coins.
In both modes, players start on the Prairie level. Additional levels can be unlocked immediately for $0.99 each, for $5.99 total, or by reaching them in Campaign mode.
Players can connect Hungry Bunnies 3D to Facebook and Twitter. The game's language options include English, Spanish, French, Korean, Japanese, and Chinese.
"The concept of Hungry Bunnies 3D was inspired by my love of the classic 'whack a mole' game," said the creator. "When my brother and I saw the serious lack of a fast-paced and entertaining version of the game we knew we had to put our variation on the market. We've now created a game that is more sporadic and unpredictable with a variety of weapons to send the various vermin back into their holes."
Hungry Bunnies 3D was developed for Mchezo by Zco Corporation, one of the largest app developers in the world.
About the Developer
Zco Corporation, founded in 1989 and headquartered in Nashua, NH, is one of the largest mobile application developers in the world. Zco has experience creating custom mobile applications, enterprise applications, 3D animation, 3D games, and augmented reality on various platforms like iOS, Android, Windows Phone, BlackBerry, Symbian, and HTML5. As an expert in the industry, Zco strives to be on the forefront of mobile app development and creating custom applications for its clients. Learn more at http://www.zco.com.