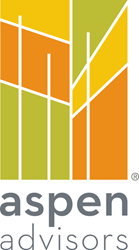 Our healthcare operational and IT expertise and proven methodologies help our clients maintain the flexibility needed to adapt to a rapidly changing environment. - Daniel Herman, founder and managing principal of Aspen Advisors
(PRWEB) June 18, 2014
Aspen Advisors, a U.S.-based healthcare IT consulting firm, is celebrating its eighth anniversary serving clients in the healthcare industry. During the first half of the year, the firm added 10 new clients including BD (formerly Becton Dickenson), INTEGRIS Health, and Temple University Health System. Aspen has served over 125 healthcare organizations since its inception in 2006, including eight of the 18 U.S. News & World Report Honor Roll Hospitals. Aspen now has 115 consultants working with clients to enhance processes and streamline operations through the strategic and effective use of technology.
"We are honored to have served so many impressive healthcare organizations throughout our eight year history," said Daniel Herman, founder and managing principal of Aspen Advisors.
The firm is addressing the industry's toughest challenges by closely working with healthcare clients' executive, clinical, financial, operational, and technology leadership. This includes helping organizations reduce operating costs, implement and realize the full value of electronic health records (EHRs), transition from volume to value, harness the power of data and analytics, enable the connected community, and position for the future of revenue cycle management.
"Our associates approach each client with the highest level of energy, excitement, and focus," said Herman. "Our healthcare operational and IT expertise and proven methodologies help our clients maintain the flexibility needed to adapt to a rapidly changing environment."
Throughout its eight year history, Aspen Advisors has been recognized with high KLAS ratings, including having been ranked among the top three professional services firms serving the industry for the past two years. Additionally, Aspen has ranked as a top 20 employer in Modern Healthcare's "Best Places to Work in Healthcare", placing 4th overall in 2013 and has received several awards from Consulting Magazine, including "Best Firms to Work For" and one of the "2014 Seven Small Jewels".
About Aspen Advisors
Aspen Advisors is a professional services firm with a rich mix of respected industry veterans and rising stars who are united by a commitment to excellence and ongoing dedication to healthcare. We work with healthcare organizations to optimize the value of their information technology investments. Our experienced team is highly skilled in all aspects of healthcare technology. We understand the complexities of healthcare operational processes, the vendor landscape, the political realities, and the importance of delivering projects successfully – the first time. Every client is important to us, and every project is critical to our reputation. Established in 2006, the firm has earned accolades for our culture, service delivery, and growth. Aspen Advisors was named one of Modern Healthcare's "Best Places to Work in Healthcare" in 2011, 2012 and 2013 and earned several honors from Consulting magazine, including being named a "Best Firms to Work For" in 2012 and one of the "2014 Seven Small Jewels". Our hallmarks are top quality service and satisfied clients; we're proud of our KLAS rankings and that 100% of our clients are referenceable. Learn more at http://www.aspenadvisors.net. Follow Aspen on Twitter at http://www.twitter.com/AspenAdvisors.