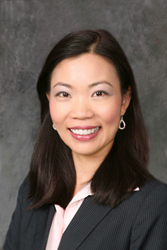 KRCL is committed to diversity and the firm is very pleased to have Viking named to this exceptional group.
Dallas, Texas (PRWEB) June 19, 2014
Viking Tao, a Director at Kane Russell Coleman & Logan PC (KRCL) has been named to Lawyers of Color's Second Annual Hot List, which recognizes early- to mid-career minority attorneys working as in-house counsel, government attorneys, and law firm associates and partners. KRCL is committed to diversity and the firm is very pleased to have Viking named to this exceptional group.
Honorees will be profiled in Lawyers of Color's Hot List 2014 Issue in July 2014. The Southwest Region honorees will also be feted at a reception on July 16th.
Viking Tao focuses her practice on the Business and Corporate, Real Estate, and China sections at KRCL. Viking represents an increasing number of Chinese companies regarding their inbound investments and their strategic expansion into the U.S. She is a frequent commentator and speaker on this trend. She advises clients on mergers and acquisitions, corporate finance, partnership negotiations, and dispute resolutions. She has experience in a wide array of sectors, including real estate, assisted living, hospitality, oil and gas, new energy, banking, insurance, health care, software, textile, and consumer products. Viking was named to the 2014 Super Lawyers' list of Rising Stars in Business/Corporate Law and was recently featured in the Dallas Asian American Bar Association's "Movers and Shakers" newsletter.
The honorees were chosen through a two-pronged process. The selection committee spent months reviewing nominations and researching bar association publications and legal blogs in order to identify promising candidates. Nominations from mentors, peers, and colleagues were accepted. The selection committee also made editorial picks of attorneys who had noteworthy accomplishments.
Lawyers of Color produces publications for lawyers of South Asian American, Pacific Asian American, Hispanic, and Native American heritage. LOC has been recognized by the American Bar Association, National Black Law Students Association, and National Association of Black Journalists.
Kane Russell Coleman & Logan PC is a full service law firm with offices in Dallas and Houston. Formed in 1992 with five lawyers, today KRCL has more than 85 attorneys. The Firm provides professional services for clients ranging from Fortune 500 companies to medium-sized public and private companies to entrepreneurs. KRCL handles transactional, litigation and bankruptcy matters in Texas and throughout the country.