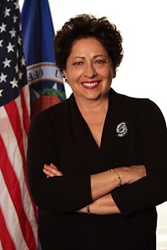 Alexandria, VA (PRWEB) June 17, 2014
The Association for Talent Development, formerly ASTD, and "The Public Manager" announce that Katherine Archuleta, Director of the U.S. Office of Personnel Management (OPM) will provide the opening keynote address for the 2014 Government Workforce: Learning Innovations conference. The conference will be held on September 3, 2014, in Washington, D.C.
Archuleta is a long-time public servant, who has distinguished herself as a leader on human resources and management policy in a variety of senior positions in local and federal government. Before being appointed Director of OPM in 2013, she severed as Chief of Staff at the Department of Labor to Secretary Hilda Solis, and most recently, she was the National Political Director the President Obama's 2012 re-election campaign.
In her keynote speech, Archuleta is expected to address the President's vision for the federal workforce, as well as her own vision for OPM; describing some of her major program and policy priorities, particularly those relating to workplace learning and performance.
The Government Workforce: Learning Innovations conference is designed to share human capital and workforce learning 'best practices,' with an emphasis on practical application and implementation across government agencies. The innovative "un-conference" model will showcase the power collaboration and innovation have in the learning environment to help agencies meet their strategic mission outcomes.
For more information about the 2014 Government Workforce: Learning Innovations conference, visit http://www.governmentworkforce.org.
About us and "The Public Manager"
The Association for Talent Development (ATD), formerly ASTD, is the world's largest association dedicated to those who develop talent in organizations. These professionals take the knowledge, skills, and abilities of others and help them achieve their full potential.
ATD's members come from more than 120 countries and work in public and private organizations in every industry sector.
ATD supports the work of professionals locally in more than 125 chapters, international strategic partners, and global member networks.
"The Public Manager" is a unique quarterly journal about federal government leadership that works, and is devoted to furthering knowledge, vision, professionalism, and best practices at all levels of government.
"The Public Manager" is affiliated with groups such as the Partnership for Public Service, GovLoop and Young Government Leaders, the Graduate School, the American Society for Public Administration, and others that are focused on good government. It is published by The Bureaucrat Inc., a not-for-profit organization owned by ATD that is chartered and devoted to furthering knowledge and best practice in government. The Bureaucrat, Inc. maintains its own corporate officer and Board of Director structure.