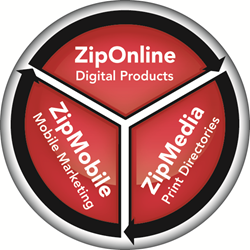 This full suite of print and digital advertising options is unmatched in the Jackson area.
Jackson, WY (PRWEB) June 18, 2014
Ziplocal – Jackson Hole's leader in local search has gone green. The 40-year "yellow pages" publisher now offers Jackson businesses a Local Search - Triple Play. New digital and mobile advertising services augment its traditional directory-based local search service.
What is the Local Search – Triple Play?
The Triple Play merges traditional print advertising with professional website development, online search optimization and mobile marketing to form the most comprehensive local marketing package for Jackson businesses. In addition to driving more customers into local businesses, Ziplocal's digital products are helping to make Jackson a 'greener' place.
Ziplocal, a local search industry innovator, is the ONLY directory publisher serving Jackson that offers this comprehensive suite of digital search solutions in addition to a traditional printed directory.
"The Local Search Triple Play offers businesses in the Jackson area print, online and mobile options to reach their customers – anytime, anywhere", stated Jennifer Nielson, VP & Managing Director of Product Development, Strategy and Marketing. "It's important that business owners have options to create a robust online presence and connect with their existing clientele across print, mobile and online search platforms".
Nielson continues, "This full suite of print and digital advertising options is unmatched in the Jackson area."
Ziplocal's intent is to provide the means for businesses to stay ahead of the trend toward digital media. In response to recent print directory distribution concerns of the Jackson town council, Ziplocal is working proactively on providing solutions that favor all sides of the issue and is excited about its continued future in Jackson as the only provider that offers these environmentally-friendly, alternative digital packages.
About Ziplocal
Ziplocal has been servicing the Jackson Hole community for nearly 40 years. While nearly half of all households still use phone books to find contact information for people and businesses in their local areas, much has changed over the years and advertising methods have advanced to meet customers' needs. Ziplocal has aggressively evolved with the times and now provides multiple media vehicles for advertisers to get their messages out. To learn more about this and other Ziplocal products, please call 307-413-7800 or visit us at http://leads.ziplocal.com.
Local Sales Contact
Diane Palmer (307) 413-7800
diane(dot)palmer(at)ziplocal(dot)com
Corporate Media Contact
Jennifer Nielson (801) 661-3167
jennifer(dot)nielson(at)ziplocal(dot)com