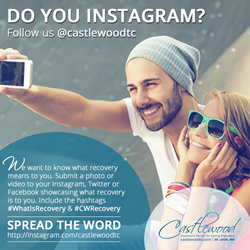 It is imperative to increase access to treatment to all who suffer from an eating disorder, regardless of financial means.
St. Louis, MO (PRWEB) June 17, 2014
Castlewood Treatment Center tees off its first ever golf tournament on Oct. 6, 2014, at the Fox Run Golf Club in Eureka, Mo. The tournament raises funds for treatment scholarships through Project Heal.
Project Heal is a nonprofit organization that provides financial grant funding for people with eating disorders who cannot afford treatment, promotes healthy body image and self-esteem, and serves as a testament that full recovery from an eating disorder is possible. The organization was created in 2008 by two teenage girls in recovery from their eating disorders who saw the importance of helping those with little resources get the life-saving help they need. Since the organization's founding, Project HEAL has raised over $300,000 to provide full treatment for many grant recipients and has created several educational programs that have been delivered to more than 12,000 schools, colleges, legislative offices, and community health organizations.
"Castlewood knows the importance of providing financial support to those in need of treatment, and our compassionate staff works with individuals to help them find affordable treatment options," said Nancy Albus, CEO of Castlewood. "We are asking for our community's assistance to create more opportunities for individuals and families in need of treatment with little to no resources by supporting Project Heal."
Eating disorders affect more than 30 million men and women in the United States and have the highest mortality rate of any mental illness. Yet, only one in 10 people with these disorders receives treatment for their eating disorder.
"It is imperative to increase access to treatment to all who suffer from an eating disorder, regardless of financial means," said Albus. "In an effort to increase access, Castlewood created a Matching Challenge Fund for the golf tournament, in which we'll double the scholarship fund amount for Project Heal. For every dollar raised at the tournament, Castlewood will match in full."
The event will include 18 holes of golf, lunch on the patio, a reception and award dinner, and an auction featuring Recovery Artwork. Those interested in participating in the event should contact Madison Luna at 636-386-6611, or madison.luna(at)castlewoodtc(dot)com. More information about the event can be found at: cwgolftournament.eventbrite.com.
About Castlewood
Castlewood Treatment Center helps people with eating disorders transform to healthier lives. Established in 2000 as the first residential treatment facility in Missouri, Castlewood's licensed health care team is nationally recognized and has decades of combined experience in providing compassionate, professional and successful treatment for more than 1,000 men and women with eating disorders and related conditions. They offer individualized, supportive and comprehensive care in a home-like residential setting to help people towards recovery and a bright, healthy future. Castlewood facilities are located in St. Louis, Missouri; Monterey, California; and Birmingham, Alabama and are accredited by the Commission on Accreditation of Rehabilitation Facilities and The Joint Commission. For more information, visit castlewoodtc.com.