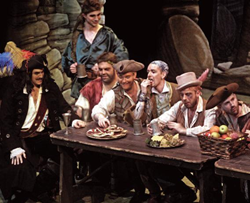 It is polished from start to finish and exudes joy throughout. A real find with strong production values, a great orchestra and first class singing. Faultless.
(PRWEB UK) 19 June 2014
For an entertaining and fun-filled evening, nothing can beat the hilarious and talented cast of the professional Gilbert & Sullivan Opera Company. After headlining the world-famous Festival for the past 20 years, the company is now on the road visiting The Orchard Theatre, Dartford (June 18-21); The Grand Theatre, Wolverhampton (June 24-28); Darlington Civic Theatre (July 1-5); The Plaza, Stockport (July 8-12); Malvern Theatre (August 5-9) and finally The Royal Hall Harrogate. This is entertainment at its very best with just the right ingredients from Britain's most famous theatrical partnership. Audiences never fail to go home with a spring in their step and a smile on their faces.
Three brand new productions, The Mikado, The Pirates of Penzance and Iolanthe are performed by a five star cast. It is the first time that a UK touring company has offered three different shows in five days for more than 30 years!
See the full programme at http://www.gsfestivals.org.
There are Pirate Kings, dotty Major Generals and hapless, bumbling policemen; beautiful Japanese including three little maids from school; a man who is a fairy to the waist but whose legs are mortal and a House of Lords where very dim-witted Peers abound.
The Mikado is directed by the inimitable Simon Butteriss who also plays Ko-Ko. The Mikado is one of the most popular of the Savoy Opera and has delighted audiences for more than a century. This hilarious, topsy-turvy tale is set in the fictitious town of Titipu and the big colourful characters, imbued with the timeless wit of W S Gilbert are perfectly matched with Sullivan's beautiful music.
Simon Butteriss also directs and stars in a new production of Iolanthe alongside Festival favourites Sylvia Clarke and Bruce Graham. Iolanthe is an enchanting tale featuring some of Gilbert's wittiest dialogue and some of Sullivan's best music, including the show-stopping Peers' Chorus, the fiendishly complicated Nightmare Song and the nostalgic When Britain Really Ruled The Waves. The story centres around a company of fairies led by a buxom Fairy Queen and a hapless and dim-witted House of Peers.
John Savournin directs a five star production of The Pirates of Penzance, which has received rave reviews in its opening week. Starring Richard Gauntlett as Major General Stanley and John Savournin as the dashing Pirate King this wonderful, jolly romp complete with a brave(ish!) band of swashbuckling pirates and a bumbling bunch of hopeless but hilarious British policeman, has all the elements for simply excellent entertainment.
When the Company move to Malvern Theatre August 5th – 9th the programme changes with the arrival of America's finest professional G&S performing company, The New York Gilbert & Sullivan Players (NYGASP). They will treat audiences to two outstanding productions of The Pirates of Penzance and The Yeomen of the Guard. The Yeomen of the Guard has a darker, deeper atmosphere than other Gilbert & Sullivan tale and many consider the music to be Sullivan's finest. It is a story of betrayal, intrigue and heart-break.
The Gilbert & Sullivan Opera Company introduce a brand new production HMS Pinafore directed by John Savournin and starring Richard Gauntlett as Sir Joseph Porter. HMS Pinafore is one of the most popular of the G&S operas and overflows with Gilbert's wittiest characters and Sullivan's most memorable music.
Then it's off to Harrogate for the 21st International Gilbert & Sullivan Festival, the biggest celebration of Gilbert & Sullivan to be found anywhere in the world with more than 60 full-scale performances in the stunning Royal Hall and Harrogate Theatre.
The Gilbert & Sullivan Opera Company Tour
The Orchard Theatre, Dartford
Wednesday 18 June – Saturday 21 June
Box Office: 01322 22 0000
The Grand Theatre, Wolverhampton
Tuesday 24 June – Saturday 28 June
Box Office: 01902 42 92 12
Darlington Civic Theatre
Tuesday 1 July – Saturday 5 July
Box Office: 01325 486555
The Plaza, Stockport
Tuesday 8 July – Saturday 12 July
Box Office: 0161 477 7779
Malvern Theatre
Tuesday 5 August – Saturday 9 August
Box Office: 01684 892277
ABOUT THE INTERNATIONAL GILBERT & SULLIVAN FESTIVAL
It's Fun! It's friendly and it's for all the family. It's the 21st International Gilbert & Sullivan Festival which makes its debut this year in Harrogate after 20 years in Buxton.
The world's most fun, complex and comprehensive musical Festival will celebrate its 21st anniversary with more than 60 full-scale productions of Gilbert and Sullivan operas in 25 days in Harrogate's opulent Royal Hall and the nearby historic Harrogate Theatre. There are almost 100 additional Fringe Events.
Nowhere in the world is there such an ambitious and exciting programme. Performing groups get in to the Royal Hall at 9.00 am in the morning. They have to set up lights, and scenery; dress rehearse their show with the renowned National Festival Orchestra; perform and then, like Cinderella, they have to vacate the premises lock, stock, scenery and costumes before midnight in anticipation of the next group moving in the following morning.
Highlights of the 2014 programme include the Gilbert & Sullivan Opera Company, The New York Gilbert & Sullivan Players and the vibrant young professional Charles Court Opera Company. There are spectacular Sullivan Concerts in Ripon Cathedral and St Peter's Church Harrogate; a World War 1 Gala Concert at Newby Hall, Tosca at Fountains Abbey and The Yeomen of the Guard at Knaresborough Castle. A massive fringe programme offers superb entertainment morning, noon and night and nine of Britain's leading universities will be there in a UNIFest Gilbert & Sullivan competition.
Read the "What's on Guide to the Festival" HERE.
View the full programme: http://www.gsfestivals.org.
Box Office: 01423 502 115 or book online: http://www.harrogatetheatre.co.uk.
More information and images:
Janet Smith
Email: janet(at)gsfestivals(dot)org
The Old Vicarage, All Souls Road
Halifax HX3 6DR
Telephone: 01422 323252