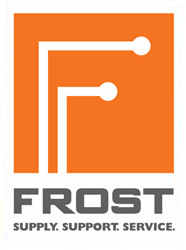 We are proud of Nick's commitment to continuing his education and providing qualified knowledge to those customers who are looking to make a green choice. - Jeff Frost, Executive Vice President of Frost Supply
Maryland Heights, MO (PRWEB) June 18, 2014
Frost Supply (http://www.frostsupply.com) is proud to announce that Nick Arb has received the LEED® Green Associate Credential from the US Green Building Council.
The Green Building Certification Institute certifies that Nick obtained this designation "by demonstrating the knowledge and understanding of green building practices and principles needed to support the use of LEED® Green Building Rating System™."
Nick has over six years of experience in the industry. He has taken on a new role here at Frost since February, transitioning from our Marketing Manager to our Energy Solutions Specialist. He now provides lighting audits and retrofit information to clients.
He has spent the previous year staying up to date with various utility incentives and maintaining Frost's status as a Platinum Trade Ally partner with Ameren. Frost has more than 50 energy projects completed saving 5 million Kwh, which are the guidelines for achieving the Platinum tier.
"We are proud of Nick's commitment to continuing his education and providing qualified knowledge to those customers who are looking to make a green choice," said Jeff Frost, Executive Vice President of Frost Supply.
Frost also has another LEED® Green Associate, David Daspit, who has had this credential for a little over three years.
Green Commitment
Frost continues to support Green initiatives through LED Lighting, recent installations of solar panels on two buildings at headquarters in Maryland Heights and at the Downtown branch location and other energy efficient supplies. "We are seeing the evolution green choices and the current incentives influence building planning and retrofit opportunities," Frost said. "We're dedicated to making it as easy as possible for our customers to be able to have access to the products and the knowledge to provide the best solution for each situation."
## ## ##
Now in its third generation, Frost continues to deliver a unique combination of products, services and expertise to the bi-state region. The Frost family guides the distribution company, with a focus on electrical supply, industrial automation, tools, safety and voice/data industries. Frost's knowledgeable staff continues to serve customers from our seven full service locations; our headquarters located in Maryland Heights, MO, downtown St. Louis, O'Fallon, MO, two in Columbia, MO including our Tool, Fastening & Safety location, Collinsville, IL and Lebanon, IL.
For more information about Frost please contact Kerry Regan by calling 314-567-4004 or visiting http://www.frostsupply.com.
Frost Supply. Providing unmatched supply, support and service to their customers for over 100 years.