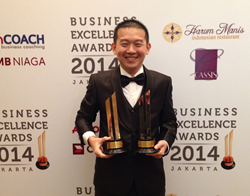 Breadnbeyond was nominated in a total of 7 categories at the award ceremony. Out of these, Breadnbeyond secured the winning position in two categories.
Jakarta (PRWEB) June 18, 2014
Breadnbeyond, an animation studio specializing in explainer videos, has recently won two categories in the highly celebrated Business Excellence Forum Awards 2014, held on the Intercontinental Hotel, Jakarta. Breadnbeyond was awarded the "Best E-Commerce" and "Best Young Entrepreneur" in the ceremony, in light of their outstanding corporate culture and customer service that the company has extended over its 6 years of operation. It was also nominated as finalists on 5 other categories.
The Business Excellence Forum Awards 2014 was sponsored by ActionCoach, the number one business coaching firm in the world with more than 1,000 offices in 46 countries. ActionCoach business coaches not only selected the nominees but also acted as a jury while picking the winners. The ceremony also constituted of trophies that were made in Florida by the same company that manufactures trophies for the Oscars.
"These two awards are dedicated to my clients and my team, without whom I wouldn't be standing here today," states Andre Oentoro, Founder and CEO of Breadnbeyond. "Winning these awards enlighten me about what a REAL entrepreneur should really be doing. It's not just about bringing in revenue and sizeable amounts of profit, but rather, as a leader, I have to be conscious about our contribution to our clients, vendors, and team."
Breadnbeyond was nominated in a total of 7 categories at the award ceremony. Out of these, Breadnbeyond secured the winning position in two categories. Here is a list of all the nominations for Breadnbeyond at the Business Excellence Awards 2014:

Best E-Commerce
Best Company to Work For (Best Company Culture)
Best Import / Export Company
Best Overall Company
CEO of the Year
Best Customer Service Results
Best Young Entrepreneur
With two prestigious awards already under its belt, Breadnbeyond is set to win more international accolades in the next year. The company is aiming to create a broader range of animations by diversifying their skill set and clientele. Apart from the typical explainer videos, such as 'this is Bob' and similar common formats, Breadnbeyond will also explore other themes for its future endeavors. The company has been able to secure long-term business prospects and esteemed clients from all across the globe, thanks to its young, dynamic, and passionate team.
About Breadnbeyond
Having worked with companies like PayPal, Designcrowd, Olark, The World Bank Group, Wiley and WorkETC,Breadnbeyond is a young start-up that specializes in creating short animated explainer videos. These videos creatively put across the communication message and normally range between 60 to 90 seconds in length. Explainer videos are also well-known as exceptional lead conversion tools for businesses. Not only do they provide a high ROI, but they also produce exceptional results for all kinds of companies. Consequently, Breadnbeyond has worked with companies of every size to produce more than 600 animated explainer videos. Learn more by visiting http://www.breadnbeyond.com.