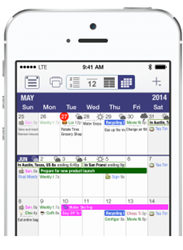 With the continued rise in popularity of smartphones, more and more people have moved to using these tools to manage busy lifestyles.
Cedar Park, Texas (PRWEB) June 19, 2014
Pocket Informant has been on the leading edge of the market since its introduction almost two decades ago. This latest update to the iOS app continues that trend with a clean, vibrant interface design, introduction of support for Apple's new iBeacons and much more.
"The most useful feature of mobile devices is the ability to take them everywhere." said James Kendrick of ZDNet. "A good tool is one that is at hand when it's needed. That usefulness is only as good as the apps available and Pocket Informant for iOS is as good as they get."
"Our customers are some of the most forward-thinking you'll find and with Informant 4, we've matched their needs with an incredible new design and feature-set to make managing events and tasks that much easier," says Alex Kac, Founder and CEO of WebIS. "The new SmartTitle and TravelAssist™ solve real issues by real people today and we're excited to see our users' reaction to them".
New features include:
-New Interface Design
-TravelAssist™ automatic timezone manager
-Advanced Location Support (Geofencing, Filter task alerts by location, iBeacons, and more)
-SmartTitle - start typing and Pocket Informant will bring up a list of contacts
-Subscribed Calendar Store
-Scrolling Month View
-Weather information included for events with locations
These are just a few of the new features added. We encourage you to take a look for yourself.
Pocket Informant is built to run on all iOS devices running iOS 7.1 or above, and is available globally through the iTunes App Store, and is a free download. Initial download includes a 7-day free trial of all features, with the option for a one-time purchase to continue use of the full feature set.
Coupons are available for members of the press. Please contact us for more information.
Headquartered in Cedar Park, Texas, WebIS, Inc. is a privately funded Corporation founded in 1997 by Alex Kac. WebIS, Inc. has focused on the Mobile PDA and Smartphone market since August of 2001 and has risen to become one of top ten developers by sales for mobile devices shortly thereafter. With more than 500,000 users on Windows Mobile, BlackBerry, iPhone and now Android, WebIS continues to show expertise, leadership and vision in the mobile space. Our flagship application – Pocket informant – owns the majority market in PIM applications on Windows Mobile and as we continue to improve the user experience, and innovate in a big way WebIS is adapting to a changing software landscape and embracing the new directions of the market.