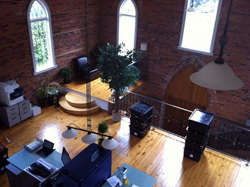 'This new facility allows us to better serve the needs of our customers, partners and employees.' - Lynn Cooke, President, 360 Visibility
Toronto, ON. (PRWEB) June 18, 2014
360 Visibility, leading provider of information technology and professional services, has moved their office to a new location in Vaughan, Ontario.
As of June 1, 2014, the company's headquarters will be located at 926 Nashville Rd., Vaughan, Ont.
The address is the only thing that's changing - all other contact information including phone numbers and email addresses will remain the same. Operations will be unaffected during the move.
"As 360 Visibility continues to grow, we are excited to expand our footprint in the GTA," said Lynn Cooke, President of 360 Visibility. "This new facility allows us to better serve the needs of our customers, partners and employees."
The new office is a historical heritage building that has been converted into a modern state-of-the-art office space. The unique property was built in 1903 and includes cathedral ceilings and stone and brick walls.
"The space is a great mix of history meets technology," Cooke said.
360 Visibility will be hosting a Grand Opening for their clients in the fall. Further details will be released closer to the date.
About 360 Visibility
Founded in 2003, 360 Visibility is a business solutions company based in the GTA. It is dedicated to enabling enterprise participants to make swift, well-informed and profitable business decisions. 360 Visibility helps companies See Clearly, and Act Faster.
Lynn Cooke, President and CEO, has been on Profit Magazine's Top 100 Women Entrepreneurs for six years in a row. 360 Visibility has also won Profit Magazine's award for 100 Fastest Growing Companies. The technology company is a Gold certified Microsoft Partner and the developer of 360 Property Manager, an accounting driven property management software developed using Microsoft Dynamics NAV.