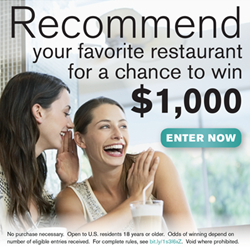 ...frequent diners can recommend restaurants that they would like to see on their dining program for a chance to win a $1,000 grand prize.
Chicago, IL (PRWEB) June 18, 2014
Rewards Network, a leading card-linked dining rewards platform, offers members their rewards of choice by dining at over 11,000 program restaurants, bars and clubs across the country. Now those frequent diners can suggest even more great locations they want to see participating in the program – and be entered for a chance to win $1,000.
Rewards Network members are highly engaged with the dining experience and have incredible enthusiasm when it comes to restaurant choices and the potential for earning rewards. Currently, the company collects over two million surveys and over one million comments per year from members following their dines at program restaurants. Now, Rewards Network wants to use that energy and engagement to learn of other locations that members would like to see as part of the dining program. This will enable the company to expand its network of restaurants and give its members more reward earning opportunities. The company is sponsoring a Restaurant Recommendation Sweepstakes, where frequent diners can recommend restaurants that they would like to see on their dining program for a chance to win a $1,000 grand prize.
Rewards Network powers the leading dining rewards programs in the United States, offering rewards to 3.2 million active members from some of the largest loyalty providers, such as leading airline, hotel and retail providers. The contest is open to both dining program members and non-members, inviting them to tell the company which restaurants they would like to see on the program in addition to the current 11,000 program restaurants across the country.
The sweepstakes is being promoted through 15 of the company's different dining partner program websites, as well as on http://www.rewardsnetwork.com/616sweeps-rn. To enter, participants must:

Visit the sweepstakes URL for their dining program (accessible through the dining program sites, dining program emails and social media) or http://www.rewardsnetwork.com/616sweeps-rn
Enter their name and email address
Submit a restaurant name, including the city and state, that is not currently on the program but participants would like to see on the program
Tell Rewards Network the top reason they chose that restaurant
The contest runs from June 16, 2014, through July 7, 2014, and participants can enter up to 25 times. At the end of the sweepstakes, one random winner will be selected for the $1,000 grand prize. This is a great opportunity for frequent diners to share their suggestions for restaurants where they would like to earn their loyalty rewards of choice.
To see a list of all Rewards Network dining loyalty programs, you can visit http://www.rewardsnetwork.com.
No purchase necessary. Sponsored by Rewards Network. Open to U.S. residents 18 years or older. Odds of winning depend on number of eligible entries received. Total ARV of all prizes $1,000. For complete rules, see http://www.rewardsnetwork.com/616sweeps. Void where prohibited.
About Rewards Network
Rewards Network (rewardsnetwork.com) is a results-driven, measurable card-linked marketing platform that helps restaurants fill more tables and build a loyal customer base. Rewards Network provides access to millions of passionate diners, driving new and repeat visits by offering rewards such as airline miles, hotel points, charitable contributions, and more. The company promotes restaurants to diners via web, email, social media, and mobile marketing, and also provides valuable customer feedback and performance tracking to help restaurants improve service and increase profits.
Press Contact:
Kara Walsh
Chief Marketing Officer, Rewards Network
312-291-5846