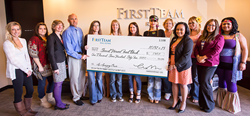 "...We are focused on maintaining the high quality of schools while providing buyers and sellers with the tools they need to understand the schools in the areas where they are considering a move," said Rick Brotherton
Irvine, CA (PRWEB) June 18, 2014
As the attention of kids turns towards summer across California, First Team Real Estate, Southern California's most trusted real estate broker applauds 58 elementary schools in 18 districts across Orange County for gaining "Distinguished School" status from the State of California for 2013-14.
"This is over a 100% increase in the number of Orange County's elementary schools being awarded 'Distinguished School' status and that speaks volumes to the commitment of Orange County to education," said Rick Brotherton, Vice President of Marketing for First Team Real Estate. "First Team agents and professionals have been proud to volunteer in programs that reached over 75 schools again this year so these awards have special meaning for us."
Last year, 26 schools in Orange County gained the status of "Distinguished School" from the State of California's Department of Education. This year, 58 Orange County schools were named to the same elite status.
"Early in the 2013-14 academic year, First Team Real Estate donated $40,000 in media resources, newspaper subscriptions, and support to Orange County schools," explained Rick Brotherton. "Helping our community, and especially kids is in the DNA of our company. Seeing our schools succeed is a great sign for Orange County's continued growth and development."
In December 2013, First Team Real Estate provided resource donations to Orange County schools that totaled over $40,000 in media resources, online learning capabilities, and newspaper subscriptions in partnership with the Orange County Register.
To assist home buyers and sellers in finding the schools and the quality of their educational programs in areas they are considering purchasing a home, First Team Real Estate has a very developed 'school finder; tool within its Market Trends online data analysis program which can be found at http://ow.ly/3lpZQ3.
"Access and proximity to great schools is a primary home buying decision and we as a company are focused on maintaining the high quality of Southern California's schools while at the same time providing buyers and sellers with the tools they need to understand the schools in the areas where they are considering a move," said Rick Brotherton. "It's been a honor to support Orange County schools this year and we look forward to many more years of doing the same."
ABOUT FIRST TEAM REAL ESTATE
Growing from a single office in Huntington Beach, CA in 1976, First Team Real Estate is now Southern California's largest and most trusted private real estate agency with offices across California. In 2011, 2012, and 2013 First Team was recognized as Best Real Estate Company by the annual Orange County Register survey of 100,000 Southern California households. We can be reached at (888) 236-1943
ABOUT FIRSTTEAM.COM
Firstteam.com is the official website of First Team Real Estate, and is used daily by thousands of unique users who trust its property and market analysis data which is updated four times daily on average. According to independent rating organizations of Internet usage and reach, firstteam.com is the most used brokerage property web site serving Southern California. For more information go to http://ow.ly/lZH0G.