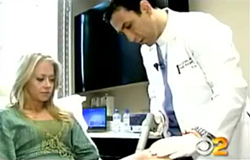 Los Angeles, CA (PRWEB) June 18, 2014
According to a French beauty publicist interviewed for a May 27, 2014 article posted on the website of New York Magazine, French women don't get fat because they are obsessed with weight and that the French secret to fighting cellulite is lymphatic drainage massage with thoracic therapy. (see goo.gl/576AML)
"I can't imagine that French women are more obsessed with their weight than American women," says Dr. Simon Ourian, Medical Director of Epione Beverly Hills. "Nor do I believe there is a real correlation between such an obsession and maintaining a healthy body weight. What she did touch on that makes sense to me is portion control and exercise."
According to the woman interviewed, taking precautionary measures to avoid weight gain is a daily ritual for many French women. By eating a light lunch, such as a bowl of soup, a French woman can avoid packing on the extra pounds gained from eating lavish dinners. It is not uncommon to see French newsstand racks laden down in early April with glossy magazines that offer different approaches to weight loss.
Further according to the article, lymphatic drainage can be used to expel toxins that build up in the body. Combining body and facial lymphatic drainage helps the women of France to remain healthy and beautiful. The woman interviewed stated that she lost one size after just one week of lymphatic drainage treatments.
"Unfortunately there's very little scientific data to back up these claims," says Dr. Ourian. "That being the case, I don't offer it to our clients at this time."
Dr. Ourian has been a pioneer in laser technology and non-invasive aesthetic procedures including Restylane, Juvéderm, Radiesse, Sculptra and CoolSculpting. These treatments are used for the correction or reversal of a variety of conditions such as acne, acne scars, skin discoloration, wrinkles, stretch marks, varicose veins, cellulite, and others. More information about cellulite can be found on Epione's website.