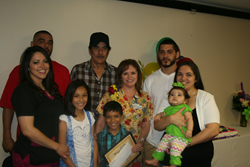 We are extremely proud to recognize Jeanette!
Mexia, Texas (PRWEB) June 19, 2014
Jeanette Estrada, a Medical Assistant at Parkview Regional Hospital's Rural Health Clinic, was recently awarded Parkview's 2014 Mercy Award. The Mercy Award recognizes one outstanding employee who best represents the spirit and values on which LifePoint Hospitals, Parkview's parent company, was founded.
Winners of the award consistently go beyond the call of duty in serving patients and the community, demonstrate the very highest level of compassion and caring, and inspire others with compassion, dedication and a merciful spirit. The annual award was established in 2002 to honor the life of Scott Mercy, LifePoint's founding Chairman and CEO. This honor puts Ms. Estrada in the running for LifePoint Hospital's 2014 company-wide Mercy Award, the highest honor an employee can receive.
"We are extremely proud to recognize Jeanette for her efforts on behalf of our patients and our community," said Kevin Zachary, Parkview CEO. "We are blessed to have her as part of our employee family."
Ms. Estrada was nominated by her peers. Nominations included praise for her commitment to advocating for the Hispanic community with regards to medical care and understanding; for serving the community at her church, St. Mary's; for always being willing to lend a hand to help whoever needs it; and for always having a ready smile.
Ms. Estrada and her husband, Victor, have four children: Jose, Victor, Christina and Monica. She was honored by the Parkview Administration and Staff recently at a special reception, where her family – including three grandchildren - was present. She will travel to Nashville later in the year for a celebration honoring the Mercy Award recipients from each of the 62 LifePoint-Affiliated Hospitals facilities. At that time, an overall winner will be announced.