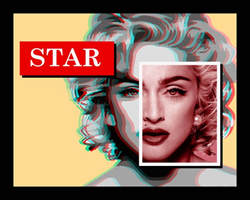 The viewer has an interactive experience with an oil painting that has never done before
N. Bethesda, MD (PRWEB) June 19, 2014
Huckleberry Fine Art, located in the Washington, D.C. metro area, will be hosting J. Scott Nicol, one of the leading photorealistic artists of his generation. J. Scott Nicol will be premiering his new and innovative series of 3D oil paintings, as well as his collection of thematic Book Spine paintings. The event will be held from Thursday, June 26, 2014 to Saturday, June 28. Nicol will be available to talk with gallery goers about his art.
Nicol's art is sold in galleries across the country and purchased by collectors from all over the world. His new series, entitled "POP 3D", incorporates pop culture images in a whole new way. He combines the realism of a photograph with the excitement of Pop Art.
The paintings when first viewed appear to be stylized portraits. The background is indicative of a Pop Art, silk-screened image. The bold text in the foreground does not suggest a title, but a word to elicit a personal interpretive response with the viewer. Through coloration, layering and drop shadows the painting looks three-dimensional.
After appreciating the initial experience, the viewer puts on the 3D glasses and the elements of the painting separate. The framed photo appears to float while the background moves when the viewer moves. "The viewer has an interactive experience with an oil painting that has never been done before," says Boots Harris of Huckleberry Fine Art.
Huckleberry Fine Art will have Nicol's paintings from both his POP 3D series and Thematic Book Series, as well as his limited edition signed prints, available for purchase. Join the gallery and J. Scott Nicol for the Chocolatini and Chocolate receptions Thursday, Friday and Saturday, June 26-June 28, 2014 from 7:00pm – 11:00pm. The gallery is located at 12051 Nebel St, Rockville, Md. 20852.
There is no entrance fee to attend, but RSVP is strongly recommended.
Contact:
Kerilynn Vigneau
Huckleberry Fine Art
huckleberryfineart.com
301-881-5977
About Huckleberry Fine Art
As the premier art gallery in the Washington, D.C., metropolitan area, Huckleberry Fine Art specializes in finding emerging artists locally and internationally. Since its existence, the gallery has been exhibiting a vast collection of vibrant oil and acrylic paintings, limited edition signed and numbered prints, sculpture, photography, art books and custom framing. Huckleberry Fine Art has established a successful publishing division with the introduction of artist Rob Gonsalves and J. Scott Nicol's limited edition prints. For more information, visit huckleberryfineart.com.