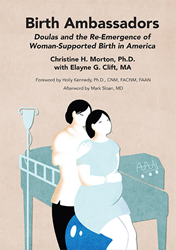 An increasing number of American woman are hiring doulas to avoid births with a high number of interventions.
Amarillo, Texas (PRWEB) June 27, 2014
An increasing number of American women are hiring doulas to attend them during labor and provide continuous labor support. For many women, this a way to counter the highly interventionist births they are likely to encounter in American hospitals. Rates of cesarean sections are at an all-time high. Almost half of American women described their recent childbirth experiences as "traumatic," with 9% meeting full criteria for post-traumatic stress disorder. Doulas provide individual attention, information, and support to their clients. But this role does not come without dilemmas, as Christine Morton and Elayne Clift describe in their forthcoming book, Birth Ambassadors: Doulas and the Re-Emergence of Woman-Supported Childbirth in America, new from Praeclarus Press.
The role of the labor-support doula has received some important recent recognition. In February 2014, the American Congress of Obstetricians and Gynecologists and the Society for Maternal-Fetal Medicine issued a joint Obstetric Care Consensus statement: Safe Prevention of the Primary Cesarean Delivery. The report recognized that measures can and should be taken to reduce the number of primary cesareans. Among the recommendations was that women consider the support of doulas for childbirth as their presence during labor can reduce the chances of cesarean sections.
Doulas share a collective commitment to women's birth experiences and view birth as a normal, not pathological event. As such, in doula-attended births, the rates of interventions, such as epidurals and cesarean sections, tend to be lower. Midwifery care is not available to the majority of American women, but hiring a doula can provide many of the same advantages.
Christine H. Morton, Ph.D. is a research sociologist whose research has focused on women's reproductive experiences and maternity care roles. Since 2008, she has been at Stanford University's California Maternal Quality Care Collaborative (http://www.cmqcc.org), where she conducts research on maternal mortality and morbidity.
Elayne G. Clift, MA is a writer, journalist, and Humanities adjunct professor. She has worked internationally as a health communications and gender specialist, and is an educator/advocate on maternal and child health issues. A volunteer doula and Vermont Humanities Council Scholar, she has edited anthologies and published fiction and poetry collections, a novel, and a memoir. Join Elayne Clift, for her upcoming "Telling Birth Stories" online writing workshop, for parents and professionals alike.
To learn more about Birth Ambassadors, visit http://www.BirthAmbassadors.com.
Praeclarus Press is a small press founded by Kathleen Kendall-Tackett, Ph.D., IBCLC, FAPA and specializes in women's health. It features books, webinars, and products that support women's health throughout their lifespan. Based in Amarillo, Texas, the mission of Praeclarus Press is to produce materials that change women's lives.