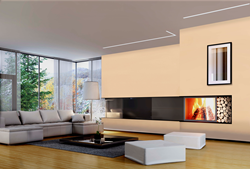 Pure Lighting provides state-of-the-art tools to let the drywall be your canvas.
Chicago, IL (PRWEB) June 18, 2014
Pure Edge Lighting's LED architectural lighting systems, Reveal Wall Wash and Verge, were finalists in the 2014 Lightfair Innovation Awards - Reveal Wall Wash in the Recessed Downlights category and Verge in the Commercial Indoor category. Lightfair® International (LFI®) is the world's largest annual architectural and commercial lighting trade show and conference. The celebrated LFI Innovation Awards® feature the industry's most innovative products and designs introduced during the last 12 months.
"We are very excited to receive recognition from our industry peers at the Lightfair Innovation Awards," said Greg Kay, president of both Pure Lighting and Edge Lighting. "Pure Lighting provides state-of-the-art tools to let the drywall be your canvas. These systems manipulate only the drywall and not the structural elements. They complement and enhance the architecture and still deliver control in lighting. This acknowledgement validates our efforts to create innovative LED solutions that standout in the market and advance the lighting industry."
About the finalists:
Reveal Wall Wash by Pure Lighting is a plaster-in, dimmable LED system that mounts within a 5/8" drywall ceiling 24" away from projected wall. System mounts directly to studs or between studs without joist modification. Multiple runs of channel mount seamlessly together and may wrap inside corners to wash surrounding walls with uniform, controlled illumination up to 95+CRI. Fixture may be ordered in 5, 7, or 10 watts per foot. Reveal Wall Wash offers a custom lighting solution for wall wash, general lighting and retail applications.
Verge by Pure Lighting is a slim, plaster-in aluminum channel with a 4" paintable aluminum backer plate that houses a single row of commercial grade or RGB LEDs.
Verge mounts in 5/8" drywall without joist modification, emitting ambient illumination in corners that softens the aesthetic of a space. Single extrusions create dramatic cove or toe-kick effects. Combine multiple extrusions to create the effect of illuminated corners, door frames or even floating walls.
About Pure Lighting
Let the Drywall be Your Canvas. Pure Lighting, a division of PureEdge Lighting, is dedicated to the simple notion that light and interior design are one. Engineered to vanish into the architecture, these systems blend seamlessly with their surroundings. Only the light itself shines through, creating dynamic and unexpected architectural lighting accents that deconstruct space and heighten atmosphere. Pure Lighting offers sophisticated tools for enlightened design—expand your palette and explore the possibilities. http://www.purelighting.com
About Edge Lighting
See it in a New Light. Edge Lighting, a division of PureEdge Lighting, takes pride in solving basic lighting problems through the use of technical knowledge design engineering, cutting-edge LED technologies, and the essential elements of contemporary yet timeless aesthetics. Specification grade, energy efficient fixtures and systems offering superior craftsmanship with many products made in the USA. Simple yet elegant, the entire collection is ideal for a variety of indoor and outdoor applications in both residential and commercial environments. http://www.edgelighting.com
PureEdge Lighting stands out as a leader in product innovations, winning 29 awards in the last 7 years and receiving continual industry recognition.
Looking for more images? Visit the Inspiration Gallery for additional ideas and installations.