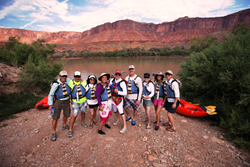 As local Utahns, we are proud to share the rich history, ecology, and culture of the desert southwest in our Moab Adventures.
Salt Lake City, Utah (PRWEB) June 18, 2014
World Wide Trekking has overhauled their Moab Adventure Trips for 2015 to include educational components that highlight the geography, history, and culture of the desert southwest. World Wide Trekking will include educational components such as Geology, Paleontology and Archaeology, with lectures delivered by local experts in their field.
Founded in 2006, World Wide Trekking quickly found a niche market, catering to discerning clientele and specializing in luxury adventure travel. Part of World Wide Trekking's mission is giving back to the places their guests visit through the company's sister 501(c)(3) non-profit, the Human Outreach Project.
WWTrek currently runs scheduled trips to some of the world's highest peaks. Their Signature Group Treks travel to Everest Base Camp in May and October, as well as Mount Kilimanjaro in June and July. Privately guided adventures are also coordinated annually to places such as Ama Dablam, Ishinca Valley, and Mt. Elbrus.
WWTrek offers fully customizable Moab Adventures year-round for Corporate Retreats, Private Groups, and Alumni Travel Groups. The company is excited to offer an updated and fully customizable Moab itinerary, while keeping its group size limited and paying attention to the standard of quality and customer service that the company is known for. World Wide Trekking has partnered with Moab's finest river guides, and offers an unmatched standard of luxury accommodations.