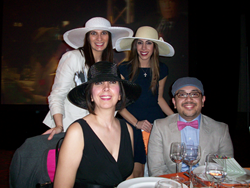 'Pharmacy Advantage appreciates that with the enhancement of accessible therapies, together we can build healthier futures for our patients,' said Daniel Kus, BS Pharm, RPh, Vice President of Pharmacy Advantage.
Troy, MI (PRWEB) June 19, 2014
Pharmacy Advantage is proud to announce their recent sponsorships of various neurology focused charity programs in efforts to embrace the community. The healthcare industry is a consistently evolving entity. Due to continual pharmaceutical improvements, advancements in surgical procedures, and expansions in medical research; records are breaking for patient life expectancy rates, especially regarding neurological disorders. However, these developments would not be possible without the cooperation of non-profit organizations such as the Michigan Chapter of ALS and Henry Ford's Neuroscience Institute. Pharmacy Advantage understands the value of innovative therapies and is excited to financially assist the fundraising efforts of the aforementioned associations.
"Pharmacy Advantage is delighted to be giving back to the community that has supported us for 10 years," said Jonathan Van Lare, PharmD, manager of clinical services at Pharmacy Advantage. "Through these two sponsorships, we are hoping to contribute to the discovery of not only new treatment options for neurology patients but perhaps one day have a small part in finding a cure. Our team realizes the importance of being actively involved with local community events and is looking forward to participating in many more in the future."
According to the World Health Organization, hundreds of millions of citizens worldwide are affected by neurological disorders. Neurological diseases affect the brain, spinal cord and nerves throughout the body. They may encompass dysfunctions in one or several areas of the nervous system, which potentially can lead to assorted lifestyle difficulties progressively over time. Challenges patients may encounter include: issues with mobility, mental tasks, basic life functions (such as breathing), or disturbances in mood. Furthermore, in worst case scenarios, neurological deficits can lead to a shortened life expectancy. Neurological disorders have the capacity to inflict a great deal of pain and suffering on patients both physically and financially.
"Community outreach and clinical research are integral elements to Pharmacy Advantage's core business model," stated Daniel Kus, BS Pharm, RPh, Vice President of Pharmacy Advantage. "This is why my team rigorously pursues opportunities to contribute back to the public through collaborations with non-profit organizations. Pharmacy Advantage appreciates that with the enhancement of accessible therapies, together we can build healthier futures for our patients. It is an honor to know that in a small way, with Pharmacy Advantages' support, these medical breakthroughs are made possible."
About ALS Association Michigan Chapter
The Michigan Chapter was founded to serve the needs of those living with Amyotrophic Lateral Sclerosis (Lou Gehrig's Disease) and their caregivers. The ALS Association is the only national not-for-profit health organization dedicated solely to the fight against ALS. ALSA covers all the bases — research, patient and community services, public education, and advocacy by providing help and hope to those facing the disease. The ALS Association (National Office and the Michigan Chapter) operates under a shared mission: to help people living with Amyotrophic Lateral Sclerosis and to leave no stone unturned in search for the cure. Our accomplishments are made possible by the generosity of others. From the smallest donation to the largest gift, donors touch the ALS community with hope for the future.
About Henry Ford Neuroscience Institute
Henry Ford's Neuroscience Institute has been recognized for multiple neurosurgery programs and neurological research. They are distinguished for establishing and/or accomplishing: $178 million in research studies, 300 leading-edge clinical trials, 1,000 epilepsy surgeries, 1,500 aneurysms and AVMs, 20,000 spine surgeries, 550,000 patient visits to neurology and neurosurgery, greater than 50,000 patient visits involving more than 2,000 epilepsy monitoring unit admissions, and in excess of 4,000 brain tumor surgeries. The hard work and dedication of this organization has revolutionized the treatment/prevention of neurological disorders on both a local and national level.
About Pharmacy Advantage
Pharmacy Advantage is a Michigan-based organization that provides comprehensive Medication Therapy Management Programs (MTM) to patients with acute and chronic conditions. Core programs offered include: Oncology, Hepatitis B and C, Multiple Sclerosis, Growth Hormone Deficiency, Fertility, Transplant, Rheumatoid Arthritis, Crohn's Disease and other Autoimmune Disorders. Incorporated specialty services: free prescription delivery, benefits investigation, financial assistance programs and disease specific clinical counseling. Our design encompasses systems to certify appropriate medication utilization,adherence, and routine preventative measures to limit adverse reactions. In light of persistent and confusing changes regarding the health care model, this highly-trained team continuously acts to increase customer satisfaction by means of furnishing paramount service with a personalized touch. Pharmacy Advantage: A healthy dose of compassion.
Learn more about Pharmacy Advantage, contact Aimee Sekmistrz, BSN, 248.525.2324; Aimee@(at)PharmacyAdvantageRx(dot)com or visit http://www.PharmacyAdvantageRx.com.