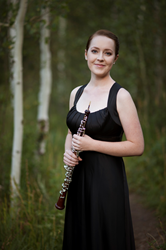 "I am absolutely thrilled to be joining the BSO," said Assistant Principal Oboe Melissa Hooper. "It's an incredible honor to be invited to perform with a group of musicians I respect and admire so much."
Baltimore, Md. (PRWEB) June 18, 2014
Following national auditions, the Baltimore Symphony Orchestra is pleased to announce the appointments of Principal Trombone Aaron LaVere and Assistant Principal Oboe Melissa Hooper; additionally, Principal Cello Dariusz Skoracezwski, who has served in this role since 2011, was granted tenure. The new appointees will begin their service with the orchestra with the upcoming 2014-2015 season.
"I am honored and delighted to have the opportunity to work with Marin Alsop and become part of the world-class musicians of the Baltimore Symphony Orchestra," said Principal Trombone Aaron LaVere. "Marin is an inspiring leader and the BSO is known as one of the world's most innovative and musically exceptional orchestras."
"I am absolutely thrilled to be joining the BSO," said Assistant Principal Oboe Melissa Hooper. "It's an incredible honor to be invited to perform with a group of musicians I respect and admire so much."
Tim Smith of the Baltimore Sun has said that Principal Cello Dariusz Skoracezwski's "lush tone, expressive style and solid technique have earned him admiration in a career that encompasses solo, chamber and orchestral music-making,"
The BSO appoints Aaron LaVere as principal trombone. Mr. LaVere's most recent post was as the principal trombone with the Oregon Symphony Orchestra. His previous positions include guest principal trombone with the Seoul Philharmonic Orchestra, and principal trombone with the Atlanta Symphony Orchestra, the Oregon Bach Festival Orchestra and the Kalamazoo Symphony Orchestra. Mr. LaVere holds a Bachelor of Music and a Master of Music from University of Michigan and his teachers include H. Dennis Smith, Jay Friedman, Sam Pilafian and James DeSano.
Melissa Hooper will assume the role of assistant principal oboe. She has performed as a guest musician with the Metropolitan Opera, the National Symphony Orchestra and the symphony orchestras of Hawaii and San Antonio. Ms. Hooper received a Bachelor of Music from The Juilliard School, where she was a student of Elaine Douvas. She then attended the University of Texas at Austin, serving as a teaching assistant for Rebecca Henderson. During recent summers, Ms. Hooper has performed at the Aspen Music Festival and School, where she was a recipient of the New Horizons Fellowship.
Principal Cello Dariusz Skoracezwski has been granted tenure. Mr. Skoracezwski joined the BSO in 2000 and previously held the position of assistant principal cello before being named to his current position in 2011. During his time with the BSO, he has performed on two European tours, one Japanese tour and participated in several BSO recordings. As a soloist, he has performed with numerous orchestras in the U.S., including the Montgomery Symphony, Alexandria Symphony, Arlington Philharmonic and Lancaster Symphony. In November 2005, Mr. Skoracezwski gave his Carnegie Hall debut, which was sponsored by the La Gesse Foundation. The cellist is also a member of critically acclaimed Monument Piano Trio. Mr. Skoracezwski began his musical education at the age of six and spent his school years in Warsaw, Poland under the instruction of Professor Z. Liebig and Professor A. Zielinski. He completed his higher education as a scholarship recipient at the Peabody Institute of the Johns Hopkins University in Baltimore and perfected his art under the supervision of world-renowned cellist Stephen Kates.
About the Baltimore Symphony Orchestra
The Grammy Award-winning Baltimore Symphony Orchestra (BSO) is internationally recognized as having achieved a preeminent place among the world's most important orchestras. Acclaimed for its enduring pursuit of artistic excellence, the BSO has attracted a devoted national and international following while maintaining deep bonds throughout Maryland with innovative education and community outreach initiatives.
The BSO made musical history in September 2007, when Maestra Marin Alsop led her inaugural concerts as the Orchestra's 12th music director, making her the first woman to head a major American orchestra. With her highly praised artistic vision, her dynamic musicianship and her commitment to accessibility in classical music, Maestra Alsop's leadership has ushered in a new era for the BSO and its audiences.
In recent years, Marin Alsop and the BSO have been regularly invited to Carnegie Hall, including Maestra Alsop's debut in February 2008, a critically acclaimed appearance later the same year to perform Bernstein's Mass, further performances in November 2010 and again in November 2011 for a performance of Honegger's dramatic oratorio Jeanne d'Arc au Bucher. The Orchestra under Maestra Alsop undertook their first domestic tour in March 2012 to the West Coast, including a three-day residency at the University of California, Berkeley.
For more than 80 years, the BSO has maintained a vibrant educational presence throughout Maryland, supporting the local community not only through concerts and recordings, but also through its commitment to actively giving back with its education, outreach and mentorship programs. The 2013-2014 season marks the sixth year of OrchKids™, a year-round in-school and after-school music program designed to create social change and nurture promising futures for youth in Baltimore City's neighborhoods. OrchKids provides music education, instruments and tutoring to Baltimore's underserved children at no cost. Since its start in 2008, the program has grown from 30 students to more than 750 student participants throughout five schools in Baltimore City. In 2012, the BSO launched Orchlab, in partnership with Montgomery County Public Schools. This music-in-schools program for elementary, middle and high school students in Montgomery County was created to enrich the instrumental music program in schools within the MCPS system that have the greatest need, as well as to provide professional development opportunities for MCPS music instructors. In the 2012-2013 academic year, Orchlab was piloted in 23 schools located in the Downcounty and Northeast Consortia of the MCPS System. Orchlab is an outgrowth of BSO on the Go, the Orchestra's education outreach program that has provided more than 12,000 students with classroom instruction and performances from BSO musicians since that program's start five years ago.
***
The Baltimore Symphony Orchestra is funded by an operating grant from the Maryland State Arts Council, an agency dedicated to cultivating a vibrant cultural community where the arts thrive.
Baltimore Symphony Orchestra, Inc. is supported in part by funding from the Montgomery County government and the Arts and Humanities Council of Montgomery County.
The Baltimore Symphony Orchestra is also supported by the Citizens of Baltimore County and Baltimore City.
###