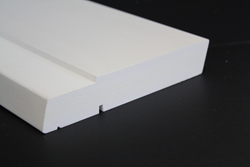 VERSATEX Vice President of Sales Rick Kapres states, "Remodelers in New England, the Northeast and the Mid-Atlantic states have been are finding that it's an ideal solution when they replace old, rotted windows sills."
Pittsburgh, Pennsylvanie (PRWEB) June 18, 2014
"A lot of contractors would like to replicate traditional sills in a longer-lasting material," says VERSATEX president John Pace. "But, until now, no PVC trim manufacturer has offered and stocked a double-hung window sill with the correct dimensional profile."
The one-piece VERSATEX moulding saves labor by incorporating the actual sill and the sill nose, two components ordinarily assembled on-site. It features a full 1 1/4" profile that fits standard double-hung applications, and comes factory-sanded and -primed in 18-foot lengths, individually bagged to stay clean throughout shipping and handling.
According to VERSATEX Vice President of Sales Rick Kapres, "Remodelers in New England, the Northeast and the Mid-Atlantic states have been quick to adopt our PVC sill since we introduced it this winter. They're finding that it's an ideal solution when they have to replace old, rotted windows sills."
As with all VERSATEX PVC products, the new sill is impervious to moisture and insect damage, and is stocked by fine millwork distributors nationwide.
VERSATEX exterior trim products are manufactured by Wolfpac Technologies of Pittsburgh, Pa., where state-of-the-art facilities produce cellular PVC trimboards, sheet, bead board, moldings and prefabricated corners; the innovative VERSATEX soffit system; and the dimensionally compatible VERSATEX Max brand nominal 2-by boards. Details are posted at http://www.versatex.com.