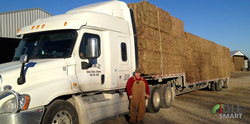 Leawood, Kansas (PRWEB) June 18, 2014
Idle Smart, the provider of an automatic engine start stop solution, today announced that WilMar Trucking LLC is realizing significant idle time reductions with initial units and is planning to install the technology on its fleet of trucks. Idle Smart continuously monitors interior and ambient temperatures and efficiently starts and stops a vehicle to maintain desired cabin temperature and reduce fuel consumption.
"We started using Idle Smart a few months ago on three over-the-road trucks," said Josh Maness, safety manager at WilMar Trucking. "Idle time has been a big issue in our operation and we're always looking for ways to improve fuel economy, so we tried Idle Smart and had great results. In the first truck, idle time dropped from 47% to 18%. Based on that result, we added Idle Smart to another two trucks immediately, and we're going to deploy the rest of our fleet over the next few months."
Maness goes on to explain that WilMar Trucking's initial success with Idle Smart was realized during winter, and that the carrier anticipates idle time savings to rise as the weather gets warmer. Based in Camden, Alabama, WilMar trucking is a flatbed carrier that hauls lumber, steel and other goods in the southeast as well as to Chicago and Texas. The mixed fleet includes Mack, Peterbilt and Freightliner tractors.
WilMar trucking is also enabling all Idle Smart units in its fleet with the new Battery Protect feature that continuously monitors voltage levels and will start and run a vehicle's engine to recharge batteries. According to Maness, that decision was based on battery drain issues in some of the fleet's trucks, especially at parking facilities where drivers require hotel loads for comfort and convenience items. This feature is expected to keep trucks ready to meet operational needs while avoiding the high cost of a service call.
"With Idle Smart, WilMar Trucking is saving fuel and eliminating downtime," said Ryan Bennett, VP product and marketing at Idle Smart. "We are very pleased they have had such great initial success and have decided to outfit their entire fleet for even more savings. WilMar joins a growing list of progressive U.S. fleets, both small and large, that are benefitting from the Idle Smart solution."
Fully customizable and password protected, programming temperature and timer settings with the Idle Smart solution is accomplished using the unit's display and menu driven format. The maintenance free solution includes under dash and display units, the Idle Smart ProSmart Harness for ECM communication, Idle Smart Fuel Optimization Software and installation components. The unit can be quickly and easily installed and is transferable between vehicles.
About Idle Smart
Founded in 2007 and headquartered in Leawood, Kansas, Idle Smart is the developer and provider of an automated engine start stop solution that reduces overnight idle time, provides year round cab comfort and maintains fleet uptime by keeping batteries charged and engines warm. Idle Smart is backed by a Lifetime Product Warranty and is a proud supporter of Hope for the Warriors®.
For more information: http://www.idlesmart.com.
Media Contact:
Susan Fall
LaunchIt Public Relations
858-490-1050
susan(at)launchitpr(dot)com