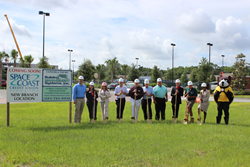 Melbourne, FL (PRWEB) June 19, 2014
Space Coast Credit Union broke ground on the location for its new Port Orange East Branch at 1788 Dunlawton Avenue. The occasion was celebrated with a ground breaking ceremony on May 15, 2014. Attending the celebration were Port Orange Mayor, Allen Green; Vice Mayor, Donald Burnette; City Commissioner, Bob Ford; as well as SCCU Chief Operating Officer, Timothy M. Antonition; Senior Vice President of Retail Branch Administration, Heather Hickman; and Regional Retail Director, Kimberly Tyree. The new branch is relocating from 3863 Nova Road and it is expected to open for business later this winter.
The Port Orange East branch relocation marks the second branch relocation within Volusia County. On May 19, SCCU also relocated its Ormond Beach branch from a store front location at 1185 W Granada Blvd Suite 3 to a full-service branch with drive-thru at 1185 W Granada Blvd Suite 10A in Ormond Beach.
SCCU Regional Retail Director, Kimberly Tyree, explained, "SCCU continually strives to provide our members with fast, convenient services, and establishing branches along our members' frequently traveled routes on their way home eliminates the need for them to drive out of the way to conduct their banking. Our new branches also feature expanded services such as drive-thru locations."
SCCU's Port Orange East branch will be an improved full-service location and will feature a Night Drop, Safe Deposit Boxes, and an on-site financial advisor. The new free-standing branch will also feature a three lane drive-thru. Tyree stated that the same friendly staff from the previous locations will be helping members at the new locations. Members will be able to use the branch for all of their financial needs including teller services, opening new accounts and loan applications, mortgage services, business lending and services, and Investment Services.
In addition to its network of 57 branches, SCCU also offers members convenient access to accounts through its 113 ATMs, online banking, mobile banking and shared service locations. Its Express Sales center is available to open accounts and loans conveniently over the phone, which reduces wait times in the branch; and SCCU's Express Sign option allows members to sign documents online without having to leave their homes.
###
Space Coast Credit Union was chartered in 1951 and is headquartered in Melbourne, Florida. The Credit Union serves over 280,000 members with assets of over $3 billion. Space Coast Credit Union is open for membership to anyone who lives or works in the fourteen Florida counties it serves. Locations can be found at SCCU.com/locations.