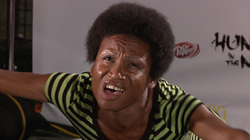 Las Vegas, NV (PRWEB) June 17, 2014
McDonald's announced today the release of its latest video campaign, featuring footage gathered during elaborate prank auditions for a nonexistent Las Vegas show. The video was created to highlight that most McDonald's restaurants are open after midnight.
Auditions for a proposed zombie-inspired musical spectacular, tentatively titled "Hunger in the Night," were held on June 6, 2014. After announcing an open casting, a production crew filmed dozens of hopeful actors singing, dancing and acting out their most convincing impressions of creatures of the night in hopes of being cast in the show. Footage of consenting talent was later utilized to create a video montage of the most entertaining "Hunger in the Night" auditions in an effort to promote McDonald's After Midnight menu options. The video can be viewed and shared at http://youtu.be/dR_64qQ7c2U.
The casting was staged at the Arts Factory in the heart of downtown Las Vegas during the city's monthly First Friday art walk event celebrating the arts and the downtown community. The show was promoted as the first of its kind in Las Vegas to utilize crowdsourcing to create its cast.
At the time of the open casting for the "Hunger in the Night" production, McDonald's perceived involvement in the social experiment was limited to credit as a corporate sponsor that was underwriting the show.
To promote "Hunger in the Night," McDonald's outreach strategy incorporated advertisements, media support and branded promotional materials, including a wrapped tour bus to attract participants to the open casting.
"McDonald's is always looking for creative ways to engage our customers," said James Vance, president of the Greater Las Vegas Operator Association. "We recognize the growing popularity of social media and felt the 'Hunger in the Night' video would be an inventive and memorable way to encourage people to experience McDonald's After Midnight menu."
Learn more about this video campaign and upcoming McDonald's promotions in the Las Vegas area on Twitter @McDonaldsVegas. Follow the conversation using the hashtag #HungerInTheNight.
To embed and post the new "Hunger in the Night" video on your website, please visit http://youtu.be/dR_64qQ7c2U, click "share" and copy the embed link.
ABOUT MCDONALD'S USA
McDonald's USA, LLC, serves a variety of menu options made with quality ingredients to more than 26 million customers every day. Nearly 90 percent of McDonald's 14,000 U.S. restaurants are independently owned and operated by businessmen and women. Customers can now log online for free at approximately 11,500 participating Wi-Fi enabled McDonald's U.S. restaurants. For more information, visit http://www.mcdonalds.com, or follow us on Twitter @McDonalds and Facebook http://www.facebook.com/mcdonalds.
©2014 McDonald's