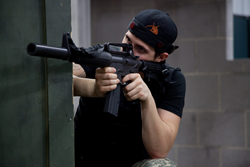 The growth we have seen has been incredible and we are extremely excited to see what the future holds...
Whitewater, WI (PRWEB) June 18, 2014
iCOMBAT Waukesha tactical laser tag's one year anniversary is June 20th. The facility has been extremely popular with area thrill-seekers, offering a degree of combat realism not found anywhere else. Players have flocked to iCOMBAT to experience full immersion in the theater or war as a Hollywood action hero.
iCOMBAT has over 8,000 members from 44 states as of year one, which is substantial growth within the industry. These members have played for a combined time of over 360 days, or 8,640 hours. Considering each session of play lasts about an hour, that's an incredible amount of laser tagging!
To add to the excitement, iCOMBAT has also hosted dozens of corporate events for area businesses. Some of the more recognizable visitors have been GE Healthcare, JF Ahern, WeatherTight, RW Baird, Cooper's Hawk Winery, Jersey Mike's, Country Financial, and ARI Industries. Every week new companies are discovering iCOMBAT's exciting teambuilding opportunities and meeting spaces.
iCOMBAT is also home to some of the finest law enforcement and civilian home defense training in the area. Many area police agencies have taken advantage of iCOMBAT's training environment, including Sheboygan SWAT, Rock County Sheriff's Department, Milwaukee County Sheriff's Department, and the Midwest Tactical Officer's Association. Area ROTC and Armed Services recruitment offices have also utilized the training grounds. When it comes to home defense, iCOMBAT hosts numerous classes on various topics, including the Wisconsin Concealed Carry permit course. The classes have been popular, with students learning the skills to survive dangerous situations.
"The growth we have seen has been incredible and we are extremely excited to see what the future holds," explained owner Rick Jensen. "We have also been moving forward on expansion plans, which include a facility in the Madison area."