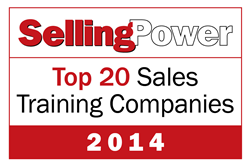 As times are changing in the market for salespeople, so are the expectations and requirements of sales training firms.
Greensboro, NC (PRWEB) June 18, 2014
Today, The Brooks Group announced that it has been included on the 2014 list of the Top 20 Sales Training Companies that excel in helping sales leaders improve the performance of their sales teams. The list appears in the July issue of Selling Power magazine, which will be available to subscribers the first week of July.
"Being recognized on the Selling Power Top 20 Sales Training Companies list is truly an honor," states Will Brooks, EVP and Director of Marketing for The Brooks Group. "This is a prestigious recognition and one that is a reflection of the hard work and efforts by our team."
At least two considerations about the current state of business-to-business (B2B) selling influenced the selection process for the 2014 Top 20 Sales Training Companies list.
1) B2B buyers start their purchasing journey, not by contacting companies, but by going online to research products, watch demos, and get pricing information. In fact, some B2B sales and marketing experts estimate that 92 percent of B2B buyers begin the purchasing journey by first conducting online research.
2) Buyers tend to trust their peers on social networks more than they trust brands. As buyers move to social media for referrals and feedback, sales organizations are left out of the loop. According to IDG Connect, 86 percent of B2B IT buyers are currently using social networks as part of their purchasing-decision process.
The dual influences of online research and social networks have created various challenges for sales teams. According to Selling Power publisher and founder Gerhard Gschwandtner, sales training is a vital component in adapting to these changes in buyer behavior.
"A great sales-training program continues to be a staple of success for sales organizations," says Gschwandtner. "Now more than ever, sales leaders must make sure that salespeople are properly prepared to meet the expectations of today's socially and digitally connected buyer. Our list of the 2014 Top 20 Sales Training Companies serves as a guidepost for sales leaders who are looking for the training program that best fits their needs."
"As times are changing in the market for salespeople, so are the expectations and requirements of sales training firms. Being named for the fifth consecutive year as one of the top firms is validation that our curriculum, methods, and processes are genuinely creating transformational changes within sales organizations… and that's why we're in business – to create transformational changes. We want our clients' salespeople to not only 'make the sale,' but also grow and develop in their trade," says Jeb Brooks, President and CEO of The Brooks Group.
Each sales-training company featured on this year's list offers sales organizations the following benefits.

Provides a consultative experience.
Quantifies results with metrics.
Offers customization and post-training support.
Has a documented track record of ROI and customer satisfaction.
Here are the four main criteria Selling Power considered when selecting the top sales-training companies.
1) Depth and breadth of training offered
2) Innovative and new offerings (specific training courses or methodology) or delivery methods
3) Ability to customize offerings
4) Strength of client satisfaction
Selling Power editors say the firms included on the 2014 Top 20 Sales Training Companies list have "demonstrated an excellent awareness of the skills and tools required to succeed and remain competitive in today's selling environment."
For more information, visit sellingpower.com or call Selling Power headquarters at (540) 752-7000.
About The Brooks Group
Founded in 1977, The Brooks Group is an award-winning B2B sales training company focused on bringing practical, straightforward solutions to your sales force selection and training challenges.
The Brooks Group's suite of sales and sales management training programs are street-smart, logical and taught/reinforced in a way that guarantees clients realize a return on their training dollars immediately following the training. The Brooks Group's clients get the best available resources for screening, training, developing and retaining sales and sales management talent customized specifically to their organization's needs.
94% of The Brooks Group's training participants win new accounts as a result of the training
99% see increased sales volume
75% say they're better at building trust and rapport and are more confident in approaching prospects.
To learn more about The Brooks Group, visit http://www.TheBrooksGroup.com.
To access free, immediately usable sales development tools, visit our Free Sales Tools page: http://www.brooksgroup.com/free-sales-resources/sales-training-tools/.
About Jeb Brooks
Jeb Brooks is President & CEO of the The Brooks Group, one of the Top Twenty Sales Training Firms as ranked by Selling Power magazine. He is a sought-after commentator on topics related to sales, sales management, and adult learning, having appeared in the Wall Street Journal, Money, Fortune, and CNN. Jeb is the author of four books and numerous articles.
About Selling Power
In addition to Selling Power magazine, the leading periodical for sales managers and sales VPs since 1981, Selling Power Inc. produces the Sales Management Digest and Daily Boost of Positivity online newsletters, as well as a five-minute video series featuring interviews with top executives. Selling Power is a regular media sponsor of the Sales 2.0 Conference.
About Gerhard Gschwandtner
Gerhard Gschwandtner is the founder and CEO of Selling Power and the publisher of Selling Power magazine. He conducts a popular Daily Report video series featuring interviews with top sales and marketing executives and CEOs, and he regularly hosts the Sales 2.0 Conference. He is a recipient of the Sales & Marketing Executives International, Inc. 2010 Ambassador of Free Enterprise Award. Read his blog at blog.sellingpower.com.