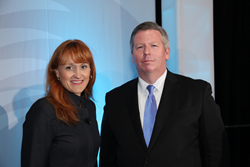 District energy and combined heat & power don't get half of the attention they deserve.
Seattle, Washington (PRWEB) June 17, 2014
Heather Zichal, former deputy assistant to the president for energy and climate change, provided the keynote address at the 105th Annual Conference and Trade Show of the International District Energy Association (IDEA) in Seattle, WA. With over 640 people from 15 different countries in attendance, Zichal detailed what she believes to be the case for CHP, touching upon the themes of value, reliability and resiliency, and efficiency.
During her time as a White House advisor, Zichal helped shape and execute many of President Obama's top environmental priorities, including establishing historic new fuel economy standards, reducing mercury pollution and supporting clean energy deployment in the United States. She has been a strong advocate for policies that reduce America's dependence on foreign oil, protect public health and our environment and address global climate change. Zichal was instrumental in developing President Obama's second-term climate agenda and was the architect of the EPA's first ever greenhouse gas controls for power plants.
Zichal spoke of the profound period of change that the US is experiencing, which is recasting the energy landscape and redefining the country's energy future. On June 2, the EPA proposed the "Clean Power Plan," new standards that aim to cut carbon pollution from power plants 30% by 2030, which Zichal referred to as "one of the most significant steps any nation [has taken] in response to the climate challenge." And it is Zichal's belief that the newly proposed EPA standards and resulting shift in the power sector to become more efficient in the coming years will allow district energy and CHP to take center stage, as they are "ready, right now, to deliver efficient, reliable electricity, and do so at a great value for the consumer."
In addition to the emphasis Zichal placed on the opportunities she sees for district energy on the climate adaptation agenda, she also recognized that "district energy and combined heat & power don't get half of the attention they deserve." Referring to district energy as an underdog and one of the best kept secrets of the energy world, she acknowledged that while district energy is hardly new, the average person wouldn't even know how to begin describing it. As such, she urged industry participants to place greater importance on educating policy makers, government leaders and those who will benefit most from new or expanded systems. She urged IDEA members to make investments to build partnerships that move the industry forward, focusing on the state and local level to drive change and propel ongoing progress, particularly as city leaders seek innovations to increase energy resiliency.
IDEA President and CEO Rob Thornton applauded Zichal's address, stating that "Heather correctly summarizes the business case for district energy/CHP - value, reliability and resiliency, and efficiency – as she sheds light on many examples why the time for district energy and CHP is now." Referring to the industry's position with the current administration as "pushing on an open door," Thornton adds, "it is undeniable that district energy/CHP will help to shape cities of the future, as these technologies provide a proven and effective vehicle for achieving the efficiency and environmental targets set out in the recently proposed EPA regulations."
The International District Energy Association (IDEA) is a nonprofit 501(c) 6 industry trade association founded in 1909 and governed by a 22-member Board of Directors. IDEA represents approximately 1800 members who are district heating and cooling executives, managers, engineers, consultants and equipment suppliers from 26 countries. Association members operate district energy systems owned by utilities, municipalities, hospitals, military bases and airports throughout North America and around the world. Visit http://www.districtenergy.org for more information.