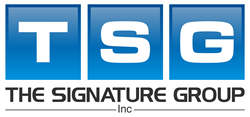 Vienna, VA (PRWEB) June 18, 2014
The Signature Group, Inc. today announced it has partnered with Ingram Micro to clean and beautify the historic Freret Neighborhood of New Orleans. On May 8, more than 1400 associates from Ingram Micro, TSG, and other technology companies worked together to clean and paint the area, including local playgrounds, elementary schools, streets, cemeteries, and senior residents' porches.
The project was coordinated with local organization Neighborhood Housing Services and the Freret Neighborhood Center as part as Ingram Micro's inaugural IMOne, a one-of-a-kind channel partner event that features solution providers and manufacturer partners from five distinct Ingram Micro partner communities, including VentureTech Network (VTN), SMB Alliance, Healthcare, Public Sector Elite and System ArchiTECHs.
"We were excited for the opportunity to partner with Ingram Micro and give back to a community in need. We had a wonderful time working with residents of the neighborhood to tackle long overdue projects," commented Justin Brady, Director of Commercial Operations at The Signature Group. "We're proud to be part of an organization that strives to leave the places we visit better than we found them and look forward to participating in the future."
"At Ingram Micro, we strive to give back to the communities in which we work, and this event is a reflection of that," says Paul Bay, senior executive vice president and president of Ingram Micro North America. "With our inaugural IMOne event taking place in New Orleans, we thought it was a perfect opportunity to give back, and we are so thrilled that TSG could be a part of that effort."
About TSG
The Signature Group, headquartered in Vienna, Virginia, provides IT consulting, integration, support, and managed services that increase our clients revenue opportunities, decrease operating cost, increase organization efficiency and mitigate risk. TSG provides IT solutions and managed services to enterprise clients, telecommunication service providers, small and medium sized businesses, financial institutions, medical facilities, associations and non-profits as well as Federal, State and local governments and agencies. Please visit http://www.teamtsg.com or call 1-800-953-3692 for more information.
About Ingram Micro Inc.
Ingram Micro is the world's largest wholesale technology distributor and a global leader in IT supply-chain, mobile device lifecycle services and logistics solutions. As a vital link in the technology value chain, Ingram Micro creates sales and profitability opportunities for vendors and resellers through unique marketing programs, outsourced logistics and mobile solutions, technical support, financial services and product aggregation and distribution. The company is the only global broad-based IT distributor, serving approximately 160 countries on six continents with the world's most comprehensive portfolio of IT products and services. Visit http://www.ingrammicro.com.