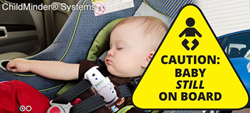 "In our hyper connected, fast-paced world it's not surprising that parents are distracted to the point of making terrible, heartbreaking mistakes," explains BabyAlertUSA's Aron Wulliger.
Brooklyn, NY (PRWEB) June 19, 2014
Heatstroke is the leading cause of non-crash-related fatalities for children 14 and younger. Between 1998 and 2013, 606 children died due to heatstroke and of these deaths, 52% were the result of children being forgotten in vehicles. The safety advocacy group KidsandCars.org reports 11 child vehicular heatstroke fatalities already this year. With the official start of summer just days away, the fathers behind BabyAlertUSA join KidsandCars.org, the National Highway Traffic Safety Administration (NHTSA) and other safety advocates in urging parents to Look Before You Lock.
A number of factors make children in cars extremely vulnerable to heatstroke: 1. Children's body temperatures rise three - five times faster than adults; 2. Cars are like greenhouses and rolling down a window does little to keep them cool; 3. On an 80-degree day, a car can reach deadly levels in just 10 minutes.
KidsandCars.org faults memory failure due to lack of sleep, hormone changes, stress and changes to normal routine to explain how children get left behind in cars. To help parents avoid this tragic mistake, safety advocates offer the following safety tips and reminders:

Never leave a child alone in a car, even for a minute.
Place something you'll need like a cellphone or handbag in the backseat.
Get in the habit of opening the car's back door to make sure a child hasn't been left behind.
Keep a stuffed animal in child's car seat when unoccupied. Place the stuffed animal in the front passenger seat when the child is in his car seat as a visual reminder that the child is in the car.
Make arrangements with your daycare center or babysitter to always call if your child has not arrived on a scheduled day.
If you see a child alone in a vehicle, get involved. If the child seems hot or sick, get them out or call 911.
The fathers behind BabyAlertUSA were touched personally by this tragedy when the sister of a friend accidentally left her 2 year old in the car and her daughter passed away. The mother was arrested and authorities threatened to take away her other children. The charges were eventually dropped, but her experience left a lasting impression on BabyAlertUSA's managing partner, Aron Wulliger.
"As a father of five, I have always been concerned with how easily distracted and forgetful parents can be and what consequences this can have. When my friend lost his niece, I became determined to find a way to help prevent that from happening to other parents," explains Wulliger.
The answer for Wulliger and his business partner is BabyAlertUSA's patent-pending Childminder SoftClip® System. In 2013 Wulliger and his partner invested in Baby Alert to develop an updated and higher quality clip system with easier installation, a longer battery life and improved technology. The updated ChildMinder SoftClip® System was launched this spring and offers parents an alarm system that alerts them, or their caregivers, if their child has been accidentally left in his or her car seat in the back seat of a car. When the SoftClip® System is fastened, the system's key chain alarm sounds within 8 seconds if the parent or caregiver moves more than 15 feet from the child in his car seat.
"In our hyper connected, fast-paced world it is not surprising that parents are distracted to the point of making terrible, heartbreaking mistakes. We founded BabyAlertUSA to give parents a way to take precautions against making this mistake themselves," says Wulliger.
For product details and purchasing information, visit http://www.babyalertusa.com.