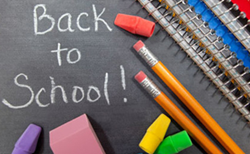 "If you want to capitalize on back-to-school season to generate sales, Lancer Label can help you do just that," said Fred Nelson, General Sales Manager at Lancer Label.
Omaha, NE (PRWEB) June 18, 2014
Back-to-school season presents numerous opportunities for consumer-facing companies to sell school-related products and goods. Distributors can capitalize on the back-to-school fervor by selling custom label solutions to their clients, enabling them to improve revenue generation and sales.
Lancer Label, a custom label expert, can work with distributors to produce specialized labels for organizations like athletic associations and academic institutions. These labels and magnets can be applied to a variety of items, which makes them perfect for use with different types of memorabilia and other goods.
Here are a few ways distributors can take advantage of the back-to-school season with custom label solutions from Lancer Label:
•Magnets: Consider creating high-quality magnets that flaunt the school insignia, logo, name or mascot. Lancer Label can print photographic images and distributors can choose between indoor and outdoor materials.
•Consecutive Numbered Labels: These labels are great for campus parking passes for parents, students and faculty. They're durable and can come in almost any shape and size.
•Variable Data Labels: Keep track of all school owned electronic equipment such as computers, tablets and TV monitors by affixing a variable data label with consecutive numbers or a bar code.
•Repositionable Labels: Because these labels have a unique adhesive that allows for easy removal and reapplication, they're a great choice for school sports team schedules or mouse pads. Students can apply them to their lockers, the kitchen fridge or their desktop. Check out the short video on the Lancer Label website for more product ideas for repositionable labels.
•Bumper Stickers: These are a popular choice among families that want to show their support for their school. Distributors can choose from 25 standard ink colors and receive free lamination!
"Although many kids are taking a break for their summer vacation, there is no rest for savvy business owners," explained Fred Nelson, General Sales Manager at Lancer Label. "If you want to capitalize on back-to-school season to generate sales, Lancer Label can help you do just that."
For those ready to place an order, Lancer Label is offering 15 percent off any catalog order through June 27, 2014, using promo code LLSUMMER14 at checkout. The offer is valid for catalog orders at catalog published quantities. Domed decals and magnets are excluded from this offer. Offer cannot be combined with any other offers or promotions.
Regardless of how challenging your customers' label requirements may be, Lancer Label can help you accomplish your goals and provide your customers with great value. Back-to-school season offers distributors a great opportunity to drive sales, and Lancer Label is the perfect partner for any label printing needs.
About Lancer Label:
With 50 years of experience in the label industry, Lancer Label is dedicated to providing distributors quality label solutions from a supplier they can trust. Lancer Label offers the gold standard customer experience, quality products and versatile printing capabilities all at a great value. We make selling labels easy! For more information and to place orders online, visit LancerLabel.com. For the latest news and labeling promotional offers, find Lancer Label on Facebook, LinkedIn, Twitter and Google+.