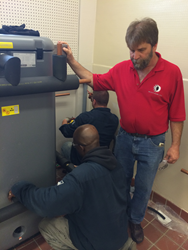 Hamilton, IN (PRWEB) June 19, 2014
Solar Usage Now was honored to spend the week working with the Journeymen Plumbers Local Union 130 in downtown Chicago, Illinois. This union has nearly 7,000 members and is one of the largest straight-line plumbing locals in the United Association. Looking to the future, the union committed to installing a SUN Equinox water heating system with five thermal solar collectors. Each day, twenty plumbers-in-training would assist in the installation. When completed, this working model will be on permanent display in the union hall.
Solar Usage Now of Hamilton, Indiana, and Informed Energy of NSW, Australia, are manufactures the SUN Equinox Hot water heating system. The new and improved Rotex Sanicube tank offers optimal heat retention due to PU rigid foam which reduces heat loss to an absolute minimum. This innovative smart water package is able to meet the smallest residential application to the largest commercial needs. There is a personalized engineering package to solve all your hot water requirements.