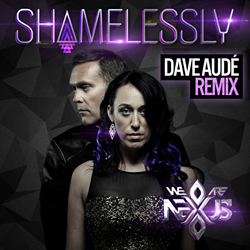 This week, Nexus tease us with industry veteran Dave Audé's remix that proves, once again, he is the man to create a commercial smash EDM hit.
Chicago, IL (PRWEB) June 18, 2014
With an upcoming street date of July 15th, (We Are) Nexus' latest track "Shamelessly" is shaping up nicely, according to Nick Gunn and Carmen Rainier, the duo that make up Nexus.
It goes without saying, choosing the right remix team is essential for any well rounded club and radio release to be successful in today's competitive EDM marketplace. Last week, Nexus teased us with one and a half minutes of Kaleptic's well crafted Dubstep remix, which won the Your EDM and (We Are) Nexus remix competition.
This week, Nexus tease us with industry veteran Dave Audé's remix that proves, once again, he is the man to create a commercial smash EDM hit. With more than a dozen years as a veteran producer and DJ, Audė has produced, remixed and listened to a ton of records.
Like a Ph.D.-educated archeologist uncovering ancient treasures, Audé expertly distinguishes classics from worthless sound shards. Perhaps that is why U2, Madonna, Sting, Lady Gaga, Katy Perry, Ke$ha, One Direction, and Britney Spears, to name a few, have trusted him to translate their music into priceless gems.
Also on the Nexus "Shamelessly" EP are remixes from Papercha$er and newcomer Kirk Cosier, along with an original, club and extended mix from Nexus themselves.
"Our original mix is not your ordinary dance track" says Nexus producer and composer Nick Gunn. "It's in a 3/4 meter which is completely outside the norm for the genre. Most dance, if not all, is with a 4/4 meter or a 2/4 meter. We wanted to do something different, something that was unique to us. We pride ourselves on doing that."
The original is certainly unique, opening with a full string orchestra which, in the first 16 measures, morphs into trance undertones, gradually overtaking and pulling the listener more center towards an EDM sound.
Carmen's vocals are stylized and sultry, telling a love story that is catchy and sublime. There's a clever pre-chorus run with the vocal that blends seamlessly to a chorus, hooking the listener. "I wanted to tell a story about two lovers" says Rainier, vocalist and lyricist for Nexus. "It's a haunting piece of music really and the vocal floats on top of the instrumentation like a boat on the ocean, it's really beautiful that way."
Check out the teaser of Dave Audė's remix on YouTube here: http://youtu.be/RN9YQ1e_Fbs and get the full (We Are) Nexus "Shamelessly" EP on July 15th whereever music is sold. Teasers of each remix, including the originals, will be released each week as the street date approaches. Keep up to date with everything (We Are) Nexus by following them on FaceBook @wearenexusoffficalpage and Twitter @wearenexusedm.