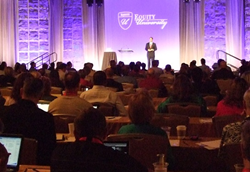 I've been coming to the conference for five years. I almost didn't come back (in 2013) because I thought I knew everything. Was I wrong…
Cleveland, OH (PRWEB) June 19, 2014
The newly released agenda for The Equity University Wealth Building Summit reveals a lineup of top experts and successful investors sharing the most sought-after strategies for alternative investors who want to get ahead of the game and take better control of their retirement savings.
The Wealth Building Summit, which is a leading alternative investing event in the retail investment industry, will take place September 19-21, 2014 at the Omni Orlando Resort at ChampionsGate in Florida. The agenda confirms that the Summit will provide cutting-edge strategies for investors of all experience levels. Some of the concepts are being revealed for the first time.
Here's a sneak peek at some of the sessions that make up the 30-plus hours of education, presented by investors who have netted big returns in their respective niches:

Self-directed investing "newbies" reveal how they achieved big returns in a relatively small amount of time
Secrets of real estate rehabbing from seasoned veterans
Advanced real estate strategies for those who are ready to take their investing to the next level
Understanding the profit potential of foreclosures and short sales
How beginner and advanced investors can get more out of tax liens
The secrets to amassing seven or more figures for retirement from the Million Dollar Roundtable
Self-directed IRA rules and regulations you need to know
A full list of the current education topics can be found here.
The education is just one component of the event. Attendees will also have a multitude of opportunities to network with the more than 500 attendees at the event.
This is Equity University's sixth annual conference, formerly known as the Networking Conference. The new name reflects a renewed focus on the education investors need to take control of their own financial future. As with previous years, the conference also features ample networking opportunities with the expected 500-plus attendees.
Some of the event's past attendees explain why investors can't afford to miss the sessions:
"The education has been phenomenal. In addition to one of our real estate mentors speaking on the main stage, the breakaway sessions were very helpful and gave us interesting tips we never even thought of. There are so many like-minded people to learn from. We were so impressed with the conference, it was a no-brainer – we signed up for next year." - Gary G., Arizona
"I've been coming to the conference for five years. I almost didn't come back (in 2013) because I thought I knew everything. Was I wrong…" – Jon R., California
"I've attended the Summit the past two years. I've already paid to come back next year. The conference speaks for itself because it's a great opportunity to network and get training. Plus, there are no hard sales. People are here to educate us, work together and build our IRAs." – Bob S., Florida
Attendees are encouraged to reserve their spot early; the event admission price increases as the event gets closer.
Details and registration can be found at http://www.euwealthsummit.com.
Equity University, the educational arm of Equity Trust, empowers investors by increasing their knowledge of self-directed IRAs and the many investment possibilities the accounts provide. Equity University offers a variety of learning resources for investors of every level, including webinars, books, recordings and in-person events.
About Equity Trust
Equity Trust, with its corporate headquarters in Greater Cleveland, Ohio and operations in Sioux Falls, South Dakota, is at the forefront of the self-directed retirement plan industry. The Company specializes in the custody of alternative assets in self-directed IRAs, Coverdell Education Savings Accounts, Health Savings Accounts and qualified business retirement plans. Along with its affiliates, Equity Trust Company provides services to more than 130,000 individuals and businesses nationwide with $12 billion in assets under custody. Since 1974, the Company and its affiliates have helped investors make tax-deferred and tax-free profits through education, innovation, and a commitment to understanding individual needs. Visit https://www.TrustETC.com for more information.
##