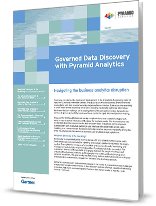 "We are happy that Gartner has pinpointed the need for Governed Data Discovery BI platforms as this is a core functionality of our product, BI Office." - Omri Kohl, Pyramid Analytics
Seattle, Washington (PRWEB) June 18, 2014
Pyramid Analytics, a business intelligence vendor and the recognized global leader in Governed Data Discovery solutions, delivers an Executive BI Newsletter that covers the emerging trends and challenges in the Business Intelligence market today. The Newsletter also features research from the 2014 Magic Quadrant Business Intelligence and Analytics Report from Gartner, the world's leading information technology research and advisory company.
Pyramid Analytics' Newsletter describes the BI landscape and provides in-depth explanations of how to navigate the recent developments in Business Analytics as described in Gartner's research: "The most notable change in this year's Magic Quadrant is that all the vendors in the Leaders quadrant have been moved to the left in terms of Completeness of Vision. This reflects the fact that no one vendor is fully addressing the critical space in the market for "governed data discovery" – in other words, platforms that address both business users' requirements for ease of use and enterprises' IT-driven requirements."*
Pyramid Analytics identifies Governed Data Discovery as the most needed capability for Business Analytics' solutions, and in the BI Newsletter, Pyramid Analytics discusses how BI Office provides the solution. BI Office was designed from the ground up to achieve the unique balance between simple and intuitive discovery for the business user and an enterprise-ready, governed platform for IT. The Newsletter also includes a Best Practices Checklist to help guide companies in ascertaining a robust Governed Data Discovery platform.
Pyramid Analytics' CEO, Omri Kohl asserts, "We are happy that Gartner has pinpointed the need for Governed Data Discovery BI platforms as this is a core functionality of our product, BI Office. We hope that the explanation of this trend as well as the Best Practices Checklist provides a roadmap for every company to distinguish the right Governed Data Discovery BI platform to suit their needs."
The Executive BI Newsletter is available from Pyramid Analytics.
About Pyramid Analytics
Pyramid Analytics is driving a paradigm shift in the business intelligence market. Their mission is to empower organizations by giving everyone access and the power to analyze their data. Pyramid Analytics is backed by Sequoia Capital with offices in the US, UK, Netherlands and Israel. Their innovative BI Office all-in-one suite liberates everyone to make faster decisions with powerful self-serve business intelligence. BI Office was engineered for anyone to easily create powerful analytics, reports, and dashboards without any programming involved. Pyramid Analytics is a Microsoft Gold Partner with Gold BI Competency. For more information, please go to: Governed Data Discovery Platform for Business Intelligence.
*Gartner, Magic Quadrant for Business Intelligence and Analytics Platforms, Rita L. Sallam | Joao Tapadinhas | Josh Parenteau | Daniel Yuen |Bill Hostmann, 20 February 2014