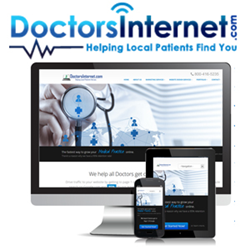 I've had websites for over 12 years & working with Doctors Internet has given me the customization I need in the competitive podiatric market. I am very happy with the service & support they provide. - Dr. Dennis Shavelson DPM, LifestylePodiatry.com. (NY)
Rye Brook, New York (PRWEB) June 19, 2014
The Doctors Internet LLC, announced today that it will be launching its redesigned website at doctorsinternet.com, changing its logo and adding new services for current and future clients.
Users will be able to navigate more easily throughout DoctorsInternet.com and will find specific landing pages tailored to their own medical profession. The service will be extended to all healthcare professionals including dentists, optometrists, podiatrists and other doctors looking for medical website design and marketing expertise.
Along with its updated design, DoctorsInternet.com is offering enhanced services to its clients to offer further options to assist in practice building.
The most recent additions to the suite of services include a Review Generation Platform, expanded Social Media Management with content creation, and Website Narration.
The Review Generation Platform features quarterly reports generated by dedicated marketing representatives at The Doctors Internet. These reports include reviews made by patients about their doctor over multiple review platforms including Google, Yelp and Healthgrades. In addition to online doctor reviews, the marketing reps manage other facets of the doctors' social media networks including their blog, Facebook and Google Plus.
The company will also increase engagement and keep potential patients on the website longer with a Website Narrator. Clients will choose from a selection of professional actors and actresses and will provide a 90 word script that will greet users on the website.
About DoctorsInternet.com
DoctorsInternet.com is a website design and marketing company exclusively for health professionals. The doctors who founded the company were interested in improving the strategies of current internet marketing for doctors. DoctorsInternet.com has over 1,000 clients around the nation. For more information, please visit Doctorsinternet.com.