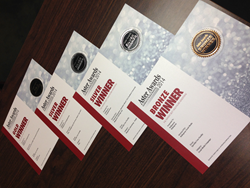 "People need to know that quality help is available and I have a responsibility to share that message of hope!" - Janis Ellington
Statesboro, GA (PRWEB) June 30, 2014
Willingway is honored to be recipient of Aster Awards in the categories of Special Events, Blog, Magazine Ad, and Social Media Campaign for addiction treatment. Aster Awards recognize companies on a nationwide basis for their excellence in medical marketing.
Willingway's Communications Department, in partnership with Designatorium, is responsible for the print and web-based marketing efforts for clinical services and special events provided by the hospital. Willingway strives to carry a message of hope for suffering alcoholics/addicts and their families. In addiction, Willingway strives to promote the benefits and merits of abstinence-based recovery.
Congratulations to Willingway's Communications Department in raising the bar of excellence for specialty hospital marketing efforts!
About Willingay:
Willingway is a privately owned hospital specializing in the treatment of alcoholism and drug addiction. Through caring and sharing...if you're willing there is a way.