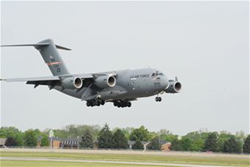 Dayton, Ohio (PRWEB) June 18, 2014
The Air Force Museum Theatre's Hollywood series continues on June 22nd with Superman: Man of Steel; this continuing series of Hollywood films are shown on the fourth Sunday of every month, at 4 p.m., for four dollars. The Air Force Museum Theatre, with its updated digital sound and projector systems on southwest Ohio's largest digital screen, offers a premium movie-viewing experience at a budget price. Visitors can also tour the National Museum of the U.S. Air Force, free museum admission and free parking, until the film begins. They can see the C-17 used in the film plus the museum features more than 360 aerospace vehicles and missiles on display amid more than 17 acres of indoor exhibit space.
In addition to its role as an Air Force developmental test and evaluation aircraft for more than 20 years, this C-17 stars in a scene with the villain Faora in "Man of Steel" and has appeared in four other major motion pictures, including "Transformers," "Transformers: Revenge of the Fallen," "Iron Man" and "Iron Man 2," as well as country superstar Toby Keith's Emmy Award-winning production of "American Soldier." In fact, the aircraft has several camera icons painted on its fuselage depicting its many Hollywood roles. A young boy learns that he has extraordinary powers and is not of this Earth. As a young man, he journeys to discover where he came from and what he was sent here to do. But the hero in him must emerge if he is to save the world from annihilation and become the symbol of hope for all mankind.
Our daily schedule includes films such as: D-Day: Normandy 1944, Fighter Pilot 3D, and Hidden Universe. For more information and to purchase tickets, visit our website at http://www.airforcemuseum.com.
The Theatre is operated by the Air Force Museum Foundation, Inc., a non-profit 501(c) (-3) organization established to assist the Air Force in the development and expansion of the facilities of the National Museum of the United States Air Force. For more information on the Air Force Museum Foundation, visit http://www.airforcemuseum.com. The Air Force Museum Foundation is not part of the Department of Defense or any of its components and it has no governmental status.
The Museum is located six miles northeast of Dayton, accessed easily off Interstates 70 and 75 to Interstate 675, exit 15, which is the Colonel Glenn Highway exit. The museum is open seven days a week from 9 a.m. to 5 p.m. It is closed Thanksgiving, Christmas and New Year's Day. Parking and admission are free; however, there is a charge for the Theatre. For more information, visit the Museum on the Web at http://www.nationalmuseum.af.mil.