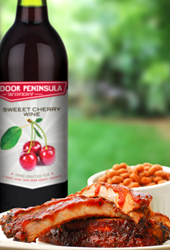 Sweeter wines can accent the smokiness of barbecued meat, and simultaneously tame the spiciness of rubs and sauces.
(PRWEB) June 20, 2014
With the July 4th weekend fast approaching, many Wisconsinites are readying their barbecue grills. Whether they burn charcoal or gas, people here have a longstanding love affair with outdoor cooking, and the captivating aroma of sizzling meat is a summer staple from Beloit to Bayfield.
Though brats and burgers remain the state's go-to grill entrees, many backyard chefs are upping the ante with ribs, steaks, chops and fish. While these more upscale entrees can be served with beer, Wisconsin barbecue chefs are increasingly featuring wine as the accompanying beverage. Here are a few tips for making the most of those pairings.
According to Paul Santoriello, head winemaker at Door Peninsula Winery, food and wine pairing is really about personal taste, but there are a few basics to keep in mind.
"Match the weight of the food to the weight of the wine, so one won't overpower the other," he suggests. "Lighter meats (like chicken and fish) tend to call for white and lighter red wines, while traditional red wines are a natural pairing for red meats."
There are also some barbecue-specific rules of thumb. For instance, with spicier barbecue entrees, Santoriello suggests going with a wine that has residual sweetness or a 'soft' wine blend.
"Sweeter wines can accent the smokiness of barbecued meat, and simultaneously tame the spiciness of rubs and sauces," he says. "Blended fruit/grape wines are a particularly good fit. For a local angle, try a wine made with Wisconsin-grown cherries, cranberries or apples."
Fittingly, the largest barbecue operation at Milwaukee's Summerfest, Saz's Dockside Barbecue, will offer patrons a red blend this summer – Door Peninsula Winery's Chaos Red.
"It is a blend that combines two traditional red varietals – Cabernet Sauvignon and Merlot – with cherry and plum wines," says Saz's Curt Kluth. "That means it is big enough to stand up to ribs, but has just enough sweetness to offset the heat of barbecues and rubs. It really enhances the meat's flavor."
Sweet red blends can also pair well with Wisconsin's ubiquitous tailgate fare, bratwurst. While beer is the traditional accompaniment, a non-traditional wine pairing can transform brats into an entirely different experience. Since a Wisconsin-style brat is typically made with bold spices like ginger and anise or caraway seeds, a red with equally bold flavors makes an excellent complement.
"Many sauces or foods off the grill become concentrated when cooking, and can become salty," says Santoriello. "Lightly sweet wines help correct this imbalance, and a fruit wine or fruit blend offer a fresh flavor."
Fruit wines can also enhance the flavors in sauces like a mango glaze, mustard marinades or sweet barbecue. As a rule of thumb, the sauce dictates the appropriate wine pairing.
"We find cranberry-based wines really work fantastic with barbecue sauces, and cherry-based wines can work great with pork ribs or brats," says Santoriello.
However, some styles of barbecue focus on the flavors of the meat alone – like Texas brisket, which has such a pronounced smoky flavor it does not require a sauce. According to Santoriello, smoked meats can easily overpower a wine. He suggests pairing them with the equally pronounced flavors of oak-aged wines.
"These are traditional grape wines, with sturdy tannin structure and rich, complex flavors like black-current fruit, bay leaf or perhaps smokiness from the oak barrel aging," he says.
The smoky flavor that comes from grilling or charring meat contrasts nicely with oak-aged wines by softening the spicy oak flavors and enhancing the fruit flavors in the wine.
"For a more intense flavor, try an oaked fruit wine like a barrel-aged cherry or apple," says Santoriello. "They provide the perfect balance for grilled sausages and smoked brisket, or other meats with that lingering charcoal flavor. Oaked goes with smoked."
The other unspoken component to wine-and-food pairing is the usefulness of acidity. Wine is regularly used in cooking, and lends a hand in marinades, "as the acid component" or offering a bright note to finish each bite of food.
"Most fruit and grape wines carry a natural acidity," he observes. "This really works well to balancing the flavors on the plate and enhances the fruitiness in the glass."