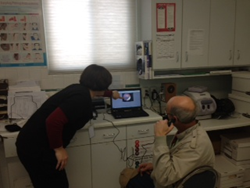 Our employees have been really impressed with the new technology. Best of all, these tools encourage workers to take an active role in protecting their ability to hear.
Belmont, MA (PRWEB) June 19, 2014
As companies work to provide healthy, injury-free work environments, more occupational health programs are seeking updated healthcare tools to improve employee health checks and provide accurate recordkeeping. Providers are discovering that digital otoscopes and digital dermatscopes produced by Firefly Global of Belmont, MA (http://www.fireflyglobal.com) can greatly simplify and improve employee hearing and skin exams.
A recent study in the American Journal of Industrial Medicine reports that twenty-two million workers in the United States are exposed to hazardous noise. Eighteen percent of sampled workers had hearing loss, with those employed in Mining, Wood Product Manufacturing, Construction of Buildings, Real Estate and Rental and Leasing showing higher risk. Meanwhile, the Centers for Disease Control estimates that more than 13 million U.S. workers are potentially exposed to chemicals that can be absorbed through the skin. Dermal exposure to hazardous agents can result in a number of occupational diseases and disorders.
Firefly's digital otoscopes enable occupational health providers to examine an employee's ear canal in microscopic detail while streaming video images onto a nearby computer screen. The otoscopes can be used for pre-employment, return-to-work, or general hearing examinations, as well as for periodic health checks or end-of-service exams. Employees can view the images of their own exam results to help keep track of any changes in their ear health or hearing.
Firefly's digital dermatoscopes provide microscopic video and still images of examined areas on an employee's skin. Both healthcare tools are small, portable, and only cost a few hundred dollars: a fraction of what companies normally spend on similar healthcare technologies.
M. French, an Occupational Health Nurse at a U.S. fertilizer manufacturing company, says that Firefly's digital otoscopes are an important component of the company's hearing conservation program. Employees can view their ear canal and tympanic membrane during the exam, lessening anxiety that might be caused by potential abnormalities. She emails images from each exam directly to the employee and places printed copies in the employee's medical chart for efficient recordkeeping.
"Our employees have been really impressed with the new technology," M. French said, noting that she likes Firefly's digital otoscopes because she can examine a patient's ear thoroughly while focusing and taking snapshots with ease. "Best of all, these tools encourage workers to take an active role in protecting their ability to hear. "
Daniel Lucey, manager of business development at Firefly Global, noted that, "companies gain a great deal when they seek out the latest technologies to help take care of their employees. Workers appreciate it when their employers safeguard their wellbeing and provide ways for them to participate in their own healthcare program. Our devices improve the efficiency and accuracy of hearing and skin exams while increasing communication and trust between a company and its workers."
Firefly's DE500 Digital Video Otoscope connects to a computer's USB port. Accompanying software facilitates the capture of images and videos. The otoscope features 30x magnification, produces high-resolution images, and records videos at 30 frames per second. A wireless model, the DE550, is also available.
Firefly's DE300 Digital Dermatoscope provides up to 30x native optical magnification. Multi-layer glass lenses deliver superb focal depth and crystal clear image quality. The Digital Dermatoscope also has a wireless counterpart: The DE350.
For more information about Firefly digital otoscopes, digital dermatoscopes, and other medical devices and their application in occupational health and other healthcare and veterinary programs, visit http://www.fireflyglobal.com or send an email to info(at)fireflyglobal(dot)com.
About Firefly Global
Firefly is the leading provider of wireless portable digital magnifying cameras with real-time 30FPS video transmission. The company's product portfolio includes a wide variety of wired and wireless cameras as well as accessories. Its cutting-edge optics technology provides users with crystal clear vision, pictures, and video. Firefly products are chosen by professionals from a wide range of industries including Ear-Nose-Throat, Primary Care, Audiology and Dermatology, and Telemedicine. The company has offices in North America, Europe and Asia.