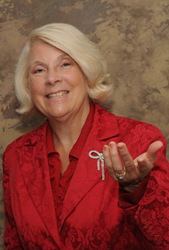 My book shows young adults how to spark their profits.
(PRWEB) June 19, 2014
"Aesop's Keys to Profitable Marketing" coaches young adults to spark the profits of their business. The Premium Book Company is the publisher.
Dr. Betsy Kruger's book explains why young business owners should use profitable new marketing strategies. Some of "Aesop's Keys" are to focus on quality, compete on strength, target top prospects, and reward the best.
The chapters update tales by Aesop, relate his wisdom to marketing, and show how to adapt each key to a new business. The new marketing strategies coach young business owners to prosper by blessing others with their business.
A universal law, the 80/20 rule, will predict the results of using "Aesop's Keys. Some young business owners notice that the most profitable 20% of the customers produce 80% percent of their profits, but few realize the top 4% of the customers will produce 64% of their profits.
Chapter 8 describes how to promote with empathy for key customers. A vignette tells how a young business owner promotes his carpet cleaning business by showing empathy with owners of hand-knotted rugs.
In contrast, a businessman asks Aesop to evaluate a conceited promotion for his business. Aesop responded, "I think you are quite right to praise yourself. You will never find anyone to do it for you."
Aesop conveys that an egotistical business person is "his own trumpeter."
"Dr. Kruger has laid out an easy-to-use process for growing top customers in any business," confides Robert Iocco, CPA, CIC, CEO, Trustpoint Insurance, Bristol, VA.
Dr. Kruger's mission is to ignite the engine of prosperity with her message. She conveys twelve ways any business can profit by using the 80/20 rule.
After selling MapWise software worldwide, she provided consulting to many corporations and coached over 2000 start-ups to succeed. Her first book, "Top Market Strategy: Applying the 80/20 Rule," enriches graduate marketing courses. She owns Strategic Power, a marketing consultancy rated A+ by the Better Business Bureau and certified by WBE and WOBE.
Dr. Betsy Kruger coaches business leaders and speaks to associations and businesses. She gives articles, pro bona speeches, and media interviews. She is an expert source on the topic of marketing for small businesses and start-ups. For more information, please call her at 386-235-5296 or email Betsy(at)BetsyKruger(dot)com