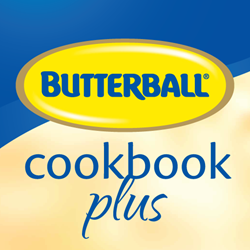 Garner, N.C. (PRWEB) June 18, 2014
Butterball, LLC is pleased to announce that its top-rated cooking app, Butterball® Cookbook Plus, has been named a finalist in the annual Tabby Awards global competition for the best consumer tablet apps. Competing with more than 200 iPad and Android apps from developers and publishers all over the world, Butterball Cookbook Plus is one of 92 finalists represented, and one of five apps contending for best tablet app in the lifestyle category.
In the coming weeks, an international judging panel of independent app professionals will proceed with a final round of consideration to determine the winners in each of the competition's 30 categories. Winners will then be recognized at an awards ceremony in November.
In parallel with the judges' assessments, fans of the Butterball Cookbook Plus app will also begin to cast their vote in the first-ever Tabby Awards Users' Choice Award by visiting TabbyAwards.com from now until July 25.
For more than 50 years the Butterball brand has been synonymous with turkey. With the release of the Butterball Cookbook Plus app, America's most recognized brand of turkey has expanded its line of poultry-related products into the digital world. The free iOS app, created by Publications International, Ltd., is a complete meal planner for any night of the week featuring hundreds of mouth-watering recipes for main dishes, salads and sides that utilize Butterball turkey as the main ingredient. In addition, the Butterball Cookbook Plus app includes helpful how-to videos, access to shopping lists and conversion charts, and even hands-free voice command technology to advance recipe instructions without dirtying the device screen.
"Butterball is thrilled to be named a finalist in this year's Tabby Awards," said Kimberley Metts, consumer promotions manager for Butterball, LLC. "We'd like to thank our development team at Publications International for helping create the Butterball Cookbook Plus app and giving our consumers new ways to find recipes to enjoy turkey throughout the year."
Butterball Cookbook Plus is available now on the iTunes App Store for free for a limited time. An Android version will be released later this year.
About Butterball, LLC:
Headquartered in Garner, N.C., Butterball is the largest producer of turkey products in the U.S. – producing more than 1 billion pounds of turkey each year. For more than 50 years, the company has provided foodservice and retail products to customers and consumers around the world. As an industry leader in quality, food safety and animal well-being, the company employs numerous processes to ensure the health of flocks and implements recognized prevention measures to exceed food safety standards. Butterball products are currently distributed throughout the U.S. and in more than 30 countries. Butterball operates six processing plants located in North Carolina, Arkansas, Illinois and Missouri.
For consumer questions or information, please visit Butterball.com or call 1-800-BUTTERBALL (1-800-288-8372). Visit ButterballCorp.com for corporate information about the company.
About Publications International, Ltd.:
Publications International, Ltd. (PIL) is one of North America's leading publishers of cookbooks, with more than 400 active cookbook titles and more than 50 recipe magazine releases annually. PIL's award winning iCookbook™ platform is available on Windows, Apple and Android devices. http://www.pubint.com
About The Tabby Awards:
The Tabby Awards is the only competition acknowledging the best tablet apps worldwide, for both consumers and businesses. For more information, visit TabbyAwards.com.