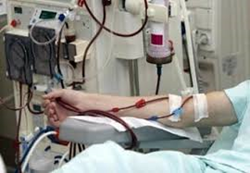 The FDA classified this as Class I, the most serious type of recall
San Diego, CA (PRWEB) June 18, 2014
AttorneyOne.com, a recognized authority on law, update the website daily regarding all the latest information from the FDA on safety alerts for NaturaLyte Liquid Bicarbonate Concentrate.
The FDA announced on May 28, that the previous recall of certain lots of NaturaLyte Liquid Bicarbonate Concentrate 6.4 liters, by Fresenius Medical Care North America, is classified as Class I. These lots are recalled because they may develop higher bacteria levels than is allowed by the company's internal specification during their shelf life; this may lead to bacteremia or systemic infection.
The bacteria was identified, by Laboratory testing, as Halomonas (species 1, 2, 3), a Gram Negative bacteria. The manufacture dates of the affected products were from August 2013 to April 2014 and their distribution dates from August15, 2013 to April 7, 2014.
Taking into consideration the latest developments, AttorneyOne.com monitor daily and update the website providing accurate information on all relevant FDA safety alerts. Sean Burke, director of Media Relations at AttorneyOne.com, adds "we are determined to keep an eye on FDA announcements concerning NaturaLyte Liquid Bicarbonate Concentrate and inform the public. For that reason", he continues, "our focus should squarely fall on investigating these safety alerts and getting the word out."
The FDA classified this as Class I, the most serious type of recall, meaning use of the products included in the recall may cause serious injuries or death.
AttorneyOne.com has further information on NaturaLyte Liquid Bicarbonate Concentrate at the website including latest major drug and medical products law news.
Headquartered in San Diego, CA Attorney One was founded in 2004 and is not a law firm. They offer a nationwide legal service which helps consumers find the best representation for their legal needs. You can learn more about Attorney One at our website http://www.attorneyone.com. You can also find us on Facebook at http://www.facebook.com/AttorneyOne. Checkout earlier news from us at http://www.prweb.com/releases/2014/06/prweb11945854.htm