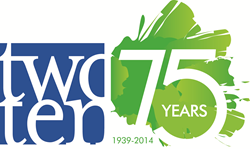 'The more we grow our unique array of college and professional education scholarships, the more our footwear community thrives.' - Neal Newman, President, Two Ten Footwear Foundation
Waltham, MA (PRWEB) June 18, 2014
Reinforcing its long-standing tradition of promoting higher education and professional development, Two Ten Footwear Foundation -- the footwear industry's national charitable organization -- today announced that 322 students will receive a total of $800,000 in scholarships for the upcoming academic year.
The scholarships, provided yearly to eligible footwear employees and their families through the generosity of Two Ten's donors, have helped make college education and professional development opportunities more affordable for students nationwide since the program's inception in 1969.
In addition to Two Ten's traditional scholarship offerings, the Footwear Warriors Scholarship Fund was established in 2013 to promote vocational and higher education among US military veterans who are employed or returning to work in the footwear industry following a tour of duty. With less than 13% of Gulf War era I and II veterans holding a bachelor's degree, the Footwear Warriors fund fills a critical need by helping US veterans meet their higher education goals.
"It was WB Yeats who said, 'Education is not the filling of a pail, but the lighting of a fire.' Each year since we started our scholarship program, Two Ten has lit hundreds of fires," said Neal Newman, President of Two Ten. "We've delivered close to $19M of college and design scholarships directly to close to 6,000 footwear employees and their children over the last 45 years. The more we grow our unique array of college and professional education scholarships, the more our footwear community thrives."
About Two Ten Footwear Foundation
During 2014, Two Ten is proudly celebrating its 75th anniversary as the footwear industry's national charitable foundation – the only foundation of its kind in the United States. Two Ten is committed to strengthening America's footwear community by providing emergency financial assistance at times of crisis; college scholarships for footwear employees and their families; community building opportunities; career affinity group networking; and other social and career services. For more information, please visit http://www.twoten.org.