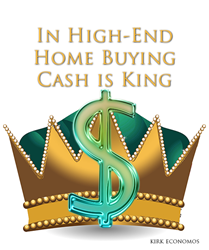 It turns out speculation was right, 10 out of the 21 homes purchased were paid for "all- cash", no financing. That's 48% purchased All-Cash
San Francisco, California (PRWEB) June 18, 2014
A proliferation of all-cash purchases of high-end homes in San Francisco was detailed in an article published June 17, 2014 on HomesSF.com. At a time when financing for real estate can be obtained at record low interest rates, the report shows that with high-end properties, Cash is King.
HomesSF.com in a article released Tuesday noted that there was a lot of speculation among buyers and sellers of residential real estate in San Francisco that a great number of high-end properties were being purchased with no real estate financing. These are known as "all-cash" purchases. Kirk Economos a realtor and member of the team at HomesSF.com decided to dig into the numbers and see if indeed, "Cash is King."
To compile the data, tax records of San Francisco County were accessed for purchases of homes over $3.5 Million in the North End of San Francisco from January 1, 2014 through June 15, 2014. Tax records show both the purchase prices and recorded loan amounts. Incomplete records were not included in the analysis.
Kirk Economos said: " It turns out speculation was right, 10 out of the 21 homes purchased were paid for "all-cash", no financing. That's 48% purchased All-Cash."
The purchase price total of the 21 homes sold was $144 million, the 10 homes purchased all cash amounted to $82 million and the amount of the homes financed amounted to $62 million.
The total loan amount on all the properties was $40 million making the total financing only 27% of the total purchase price. Most home purchases are financed and typically financing amounts to 75% to 80% of the purchase price. On the 11 high-end homes that were purchased using financing the average loan was only 64%.
The article by HomesSF.com clearly shows that when it comes to high-end residential properties in San Francisco, Cash is King. It is no wonder that San Francisco Real Estate prices have been rising rapidly.
HomesSF.com is the website of San Francisco Residential Agents Kirk and Peggy Economos. HomesSF.com offers a wider perspective than just the local San Francisco luxury market. The site offers information on the San Francisco market as well as news, insight and information on national and global high-end properties and markets.
Peggy Economos and Kirk Economos are luxury property specialists with Pacific Union International, Christies International Residential Real Estate at their Presidio Offices in San Francisco. They are a wife and husband that bring together complementary skill sets and decades of experience to work on behalf of their clients.
For buyer and seller representation, real estate information in San Francisco or for a qualified luxury property agent referral in your specific area contact: Peggy and Kirk Economos, (415) 271-6390.