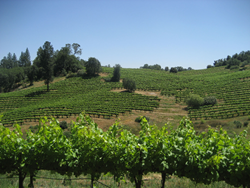 I can easily see an outdoor-loving family here, or a retired couple trying their hand in the wine industry.
Penn Valley, California (PRWEB) June 19, 2014
Nestled in the foothills between the urban sprawl of the Bay Area and the scenic wonders of the Sierra Nevada peaks lays an awe-inspiring piece of land – rich in flora, fauna, water and wine.
Underwood Vineyards, a 446-acre property is located in Nevada County's scenic Penn Valley with vineyards blanketing 230 acres of the rolling grounds. It is considered Nevada's County's largest vineyard and accounts for roughly half of the county's entire yearly harvest. The land was specifically selected and cultivated in the 1980s to produce premium grapes. Three decades later, the estate not only sells its harvest to prominent wineries, but remains a peaceful sanctuary with ponds, pastures, and wildlife. The property, which contains numerous locations for custom home sites, is listed for $9.9 million by Alex West of Chase International.
The topography, improvements and landscape of the vineyard are what make it remarkable. Large swaths of grapes ride along three separate ridges while more patches are tucked into the land, which meanders among old-growth oak groves and huge tree islands, lazy meadows, acres of natural habitat, and granite outcroppings, some with native grinding rocks. Wild turkeys, egrets, hawks, and jackrabbits are often seen while wandering the grounds, and a 60-acre pasture sits on the northern boundary. Connecting all of this are roughly six miles of roads.
As a vineyard, the land benefits greatly from its location in the Sierra Nevada foothills. The property has two large bodies of water, one of which is 60 acre-feet, in addition to allowing for some spectacular fishing, it acts as a private reservoir holding tremendous amounts of irrigation water. The property also has numerous wells. While most of Northern California's drought-riddled countryside struggles for water, Underwood Vineyards has an abundance of clear gold.
What's most unique about the property is its ability to produce top quality grapes. The fruit had so impressed industry maven Jed Steele of Kendall Jackson fame that he oversaw winemaking efforts for a label which had been using grapes from this vineyard. Sited on terrain that ranges from 1,600 to 1,800 feet in elevation, the area is swept by microclimates, sitting safely below the snow line yet above any coastal or valley fogs. Cutting edge infrastructure allows for seamless irrigation across the entire property. In fact, real-time state-of-the-art satellite-based systems monitor weather conditions and 60 acres of the vineyard are outfitted with overhead frost protection. The vineyard operation itself is essentially turn-key, with the same staff bringing decades of on-site experience to oversee the cultivation and production of the grapes.
"This is a rare opportunity for someone who loves the outdoors, or who has always wanted to get involved in winemaking," said listing Realtor Alex West. "You can be as involved in the process as you like, or you can simply sit by the lake and enjoy the amazing vistas that the land avails."
Penn Valley is located near historic Nevada City, just minutes away from fine restaurants and shopping, first-rate mountain biking, and only an hour's drive to world-class skiing. Plus the activities of the surrounding area don't get much better than those found right on the property. Hiking, fishing, camping, and biking are all available from the backyard. A small lakeside cabin comprised of a kitchen and bar, make afternoon picnics on the beach an everyday option. For grander entertainment, a clearing across the lake has welcomed special events and several concerts including one headlined by a renowned country star.
"This is one of the most magnificent properties I've had the pleasure to work with and visit," said West of Chase International. "I can easily see an outdoor-loving family here, or a retired couple trying their hand in the wine industry. It's especially suitable for several families to purchase together and carve out their own pieces of solitude. There are so many interesting perches and hideaways ideal for creating custom retreats. It's truly endless."
For more information about Underwood Vineyards, visit UnderwoodVineyards.com or contact Alex West at awest(at)chaseinternational(dot)com or call 530-214-6100.