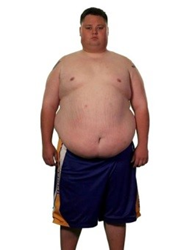 Aurora, Co (PRWEB) June 19, 2014
The next episode of "Extreme Weight Loss" Season Four is one of the most powerful episodes yet, focusing on a man who, as a child, was abused by someone he should have been able to trust.
Featuring a unique, non-competitive approach to weight loss transformations, "Extreme Weight Loss" airs Tuesday, June 24 (8:00-10:00 p.m., ET/PT) on the ABC Television Network.
Bruce is 29 years old and from Salt Lake City, UT. He is 5'10" and weighs 382 pounds. As a high school football coach, Bruce is adored by his players and friends and wants to set a better example for his team. However, he struggles with a dark secret from his past: as a child, Bruce turned to food for comfort after he says he was a victim of mental and sexual abuse by his father. Though he never admitted to molesting Bruce, his father is currently serving time in jail, having been convicted of crimes against other children.
New in Season Four, each "Extreme Weight Loss" participant spends the first 90 days of his or her weight loss journey at the University of Colorado's Anschutz Health and Wellness Center (AHWC) in Aurora, CO. Holly Wyatt, MD, medical director for the AHWC, also serves as medical director for the television program and is seen on the show each week helping participants safely lose up to half of their body weight.
For insight into Bruce's journey, connect with @ExtWeightLoss medical director @DrHollyWyatt, for a live #TweetChat on Tues, June 24 at 10e/9c/8m. #EWLchat. Dr. Holly will offer perspective on the episode and will be available to answer viewer questions about weight loss, wellness and what it takes to transform one's life.
AHWC offers some of the country's most advanced research and science-based expertise, focusing on a comprehensive weight loss and weight management approach, including fitness, nutrition and wellness services. Learn more at http://www.anschutzwellness.com. Follow us on Facebook and Twitter.
Extreme Weight Loss is produced for ABC by Eyeworks USA. The series is executive-produced by JD Roth, Todd A. Nelson, Matt Assmus and Brant Pinvidic.
Contact: marcia.neville(at)ucdenver(dot)edu, 303.656.8362