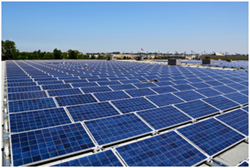 Toronto, Ontario (PRWEB) June 18, 2014
OSP's new program, OSPnet90, is an offering to developers of solar photovoltaic (PV) projects under the Ontario Power Authority Feed-in Tariff Program seeking to secure high quality, turn-key EPC services without deploying significant amounts of capital or facing the burden of structuring construction financing. Having completed more than 100 FIT projects with the company's in-house construction crews, project management, and design teams, OSP is confident in its operational resources to fulfill client needs at a level of exceptional quality.
OSPnet90 will address an important gap in the solar PV value chain as the solar market matures in Ontario. Sebastian Seyfarth, OSP's President and COO, comments:
"Developers have great projects but we find that there are significant delays due to the challenges in obtaining financing […] Having operational control over the construction risk and now the financial resources, we want to provide such a service to select clients. In short, we combine strength in operations with strength in balance sheet."
OSPnet90 is launching with an initial focus on rooftop solar PV projects contracted under the Ontario Power Authority Feed-in Tariff Program. Select developers who qualify will receive 100% construction financing with payment terms allowing clients to make no payments until 90 days after construction completion. This will allow developers to concentrate on term financing or selling the project.
Financial hurdles in the Canadian lending market have inspired US-based SunStarter Capital to provide niche lending services to OSP as its first channel partner in Ontario. Christian Wentzel, Managing Director at SunStarter Capital and Executive Chairman at OSP, describes the lending process in the past as cumbersome:
"Having financed solar project construction in other jurisdictions such as Germany and the US, we found the lending market challenging in Ontario, even if it's for projects with a low risk profile, such as solar. It took a bit of work to raise the funds internationally, but we are happy to say that we have been able complete the first round."
SunStarter Capital is looking for more channel partners, such as OSP, as the company seeks to further expand its balance sheet.
Ontario Solar Provider, Inc. is a vertically integrated solar construction company. Based in Toronto, Ontario, the company and its affiliates have over 50 employees solely focusing solar permitting and construction. With in-house installation crews, electricians, project managers and engineers, the company prides itself on seamless project execution.
SunStarter Capital LLC is a solar investment company based in Fort Lauderdale, Florida with operations in Los Angeles, California and Toronto, Ontario. The company focuses on providing financing services to investments in solar PV.