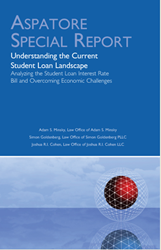 Boston, MA (PRWEB) June 17, 2014
Simon Goldenberg has been recognized as a leader in the legal community by being selected as an author in the recently released book, Understanding the Current Student Loan Landscape, published by Aspatore Books, a Thomson Reuters business.
Understanding the Current Student Loan Landscape: Analyzing the Student Loan Interest Rate Bill and Overcoming Economic Challenges (Aspatore Special Report) (ISBN: 9780314292193)
As more and more students are funding their education through loans, a key concern of borrowers is the interest rate on those loans. In an effort to address this, President Obama signed a student loan interest rate bill into law on August 9, 2013, essentially tying interest rates to financial markets. While this bill provides some relief for students, it also raises important questions. What are the advantages and disadvantages of this new law? What long-term impact will the law have on the education industry? How will this ultimately impact the US economy as a whole? How will it affect repayment? Beyond the passage of this bill, rising rates of student loan debt and default are driving the need for potential solutions to the larger issue. What are the necessary qualifications of applying for forbearance or deferment? Are there any risks involved with these options? What are the repercussions of defaulting on federal student loans? On private student loans? What are some useful suggestions for those dealing with student loan creditors, debt collectors, and loan servicers? Understanding the Current Student Loan Landscape provides feedback from some of the nation's leading legal minds on the student loan interest rate bill and the financial environment that surrounds the higher education industry. These experts discuss the specifics of the new law, give insight into how they advise clients on their options for repaying student loans, and mention valuable resources for staying up-to-date on these matters. This report offers readers an on-the-spot look at this issue as it continues to unfold.
This book can be purchased immediately by calling 1-800-328-9352 or by visiting: http://legalsolutions.thomsonreuters.com/law-products/Pamphlet/Understanding-the-Current-Student-Loan-Landscape-Analyzing-the-Student-Loan-Interest-Rate-Bill-and-Overcoming-Economic-Challenges-Aspatore-Special-Report/p/100257234.
About Simon Goldenberg
Simon Goldenberg has earned a reputation as a passionate and zealous advocate for his clients. His practice is geared toward consumer advocacy and debt relief. He has studied the nuances of credit and debt law to provide clients with comprehensive solutions both inside and outside the purview of litigation. His approach is to understand each client's unique situation to provide a guide of all possible options. Where possible, his office provides flat-fee retainers to offer cost-effective and efficient services.
He provides the compassionate representation that consumer debtors deserve.
Mr. Goldenberg has attended various training programs, workshops, and continuing education classes to stay abreast of current developments in debt relief and consumer law. He is a graduate of Hofstra University School of Law and is admitted to practice in the State Courts of New York and New Jersey, as well as the Federal Courts in the Southern District of New York, Eastern District of New York, and the District of New Jersey.
Learn more information about the Law Office of Simon Goldenberg PLLC at:
http://www.goldenbergfirm.com.
About Aspatore Books, a Thomson Reuters Business
Aspatore Books, a Thomson Reuters business, exclusively publishes C-Level executives and partners from the world's most respected companies and law firms. Each publication provides professionals of all levels with proven business and legal intelligence from industry insiders—direct and unfiltered insight from those who know it best. Aspatore Books is committed to publishing an innovative line of business and legal titles that lay forth principles and offer insights that can have a direct financial impact on the reader's business objectives.
For complete information on Aspatore titles, please visit: http://legalsolutions.thomsonreuters.com/law-products/law-books/collections/aspatore.
Contact: Ryann Burnett, ryann(dot)burnett(at)thomsonreuters(dot)com
Phone: 1-800-328-9352